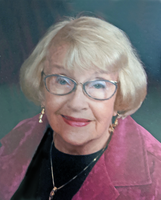 Lila Mildred "Danny" Fahrenkrog
Lila Mildred (Daniels) Fahrenkrog, 93, of Minneapolis, MN (formerly of Hartley, IA) died peacefully on Sunday, March 29, 2020.
Lila "Danny" was born on December 1, 1926 to Ruth and Eugene Daniels at Blooming Prairie, MN. She grew up in Havelock, IA and graduated from high school in 1944. Lila attended Iowa State Teachers College (UNI) at Cedar Falls, IA and received a 2-year degree, then received her 4-year degree in 1971 from Northwestern College in Orange City, IA. In Lila's early teaching career, she taught in country schools and public schools throughout northwest Iowa. She ended her teaching career at Ocheyedan, IA, retiring in the spring of 1988.
Lila was united in marriage to Orlin Harry "Bud" Fahrenkrog on June 18, 1949. They made their home in Hartley, IA and were blessed with two daughters, Carolyn and Marcy. They enjoyed traveling, fishing, card club and spending time with family and friends.
Lila was an active member of Trinity United Church of Christ in Hartley. She was president of the Dorcas women's group and sang in the church choir after her husband, Bud had passed. Lila was also a member and president of Eastern Star and served as Mother Advisor for Order of Rainbow for Girls. She was a founding member of Y'eltrah Club. Lila was also an avid reader and volunteered at the Hartley Public Library. Her many interests included playing piano, painting, sewing, writing poetry, reading, fishing, long walks, traveling, attending concerts and visiting with family and friends.
Lila was preceded in death by her husband, Orlin; parents, Ruth and Eugene Daniels; brothers: Boyd, and Richard (Sylvia) Daniels; parents-in-law, Harry and Elnora Fahrenkrog; and brothers-in-law: Robert Nelson and Rolin (Mary) Fahrenkrog.
Lila is survived by daughters: Carolyn (Terry) Smith and Marcy (Mike) L'Hommedieu; sister, Marian Nelson; sister-in-law, Corene (Merle) Wacker; six grandchildren and their spouses/partners; five great-grandchildren; and many nieces, nephews and friends.