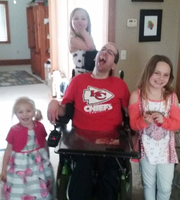 Eric Anthony Graves
Eric Graves passed away on December 10, 2019, at the age of 38 years, with his parents by his side.
Eric was preceded in death by his grandparents: Jerold and Louise Graves and Karen Gano; his uncle, Randy Graves; and the love of his life, girlfriend, Meagan Bonestroo.
He is survived by his parents, Larry and Jill; brothers: Jeremiah (Grace) and Jesse; a trio of spitfire nieces: Aubree, Sadie, and Sutton; a large, loving extended family; an armada of life-long friends; and numerous devoted caregivers.
Eric spent his life in a body that fought against him at every turn, but he fought back twice as hard. Born with cerebral palsy, Eric endured surgeries, braces, and daily pain without complaint. In his 38 years, he never allowed his condition to become a restriction. He won multiple ribbons and medals in the Special Olympics, traveled across the country, dominated video games, swam with dolphins, traveled to watch his favorite teams (Go Chiefs!), and even won himself a backyard wrestling championship or two in his heyday.
His life was never defined by what was lacking physically, rather it was defined by what was amplified and available in abundance – his heart and boundless capacity to love and care for others with no obligations, expectations, or requirements. If you knew Eric, you loved Eric. If Eric knew you, there's a damn good chance he loved you too.
Eric faced his death and his mortality, as he did with his life - head on; with courage, good humor, and love. May we all aspire to possess a fraction of his spirit and fortitude in our own lives.
He was the best of us and, while the world is a little dimmer without him in it, we take solace in the fact that he's done fighting now and he's not in pain anymore.
Rest in Peace, Eric. We love you.