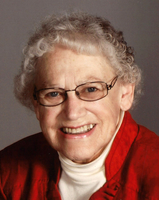 Arlene Meerdink
Arlene Pals was born December 17, 1931 in Hull, Iowa to Emery and Charlotte (Otten) Pals. She was the second daughter of four girls and was her Dad's "farm hand". She attended country school and then graduated from high school in Hull. On March 5, 1952, Arlene was united in marriage to Edwin Meerdink, her own farmer. They started farming near Hull but soon bought their first farm near Hartley, Iowa. Arlene was truly the "good farm wife", helping in the field, raising poultry, keeping garden, raising hogs and later sheep. This union was blessed with seven children: Ken, Ron, Denny, Bob, Rick, Charla and Kim.
Arlene and Ed attended the Christian Reformed Church in Hartley and were active members. They became members of the Hartley Methodist Church after the Christian Reformed Church closed its doors. Arlene also was a lifetime member of the Women's Farm Bureau. Arlene loved to travel, and they were able to take many trips throughout their married life. One of the highlights was traveling to The Netherlands and visiting the original Meerdink farm.
Arlene discovered a new interest when they began raising sheep in the late 1970's. She saw a spinning demonstration and wanted to learn. She became a very accomplished spinner and weaver. She gave many demonstrations for area groups. She was a member of the Little Sioux Spinners and Weavers Guild. This group gave her much joy. She entered many projects at the Clay County Fair and was proud to win with her handspun and woven shawl. She also loved flowers and took many displays to the O'Brien and Clay County Fairs. Arlene was a member and past president of the Clay County Federated Garden Club. Ed and Arlene were active members of the Northwest Iowa Sheep Producers and manned the booth at the Clay County Fair for over ten years.
When Arlene was 60, she decided to "go to town to work". She was employed at the Community Memorial Health Center as a CNA and med aide. She so enjoyed working with the residents. She later did home care and private home care. Arlene had a generous and giving heart. She later became a resident of the Community Memorial Health Center and enjoyed the activities greatly. Even when her eyesight was failing, she continued writing family letters, sending copies to all the children and grandchildren. She was social media before there was social media!
Survivors include children: Ken (Terry) Meerdink of Federal Way, WA, Bob Meerdink of Canadian, OK, Rick (Cheryl) Meerdink of Redondo Beach, CA, Charla (Steve) Pearce of Hartley, IA, Kim (Dee) Meerdink of Hawarden, IA; daughter-in-law, Joan (Jim) Thompson of Primghar, IA; sisters: Bernice (Jim) DeBoer of Orange City, IA and Wilma Grevengoed of Hull, IA; brother-in-law, Marvin (Betty) Meerdink of Hull, IA; twelve grandchildren; six great-grandchildren; and one great- great-grandson; other relatives and friends.
Arlene is preceded in death by her parents; husband, Ed; sons: Denny and Ron Meerdink; and sister, Adrianna Van Iperen.