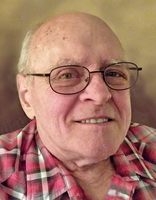 Allen James "Jim" Rons
Allen James "Jim" Rons, son of Edward and Johanna (Van Aalsburg) Rons, was born September 26, 1944 at Hull, IA. Jim spent his youth in the Hartley area where he received his education, graduating with the class of 1962. Following high school, he attended the Universal Trade School of Omaha in Omaha, NE.
On May 22, 1965, Jim was united in marriage to Mary Carolyn Anderegg at the United Methodist Church in Hartley. To this union, four children were born: Brian, Tammy, Debbie, and Jennie.
Throughout his working years, Jim's natural mechanical talent was utilized repairing farm equipment, automobiles – anything that had gears, needed oil, or operated with an engine! He was adept at figuring out just about anything that wasn't working right, which meant a lot of time in the shop or at the workbench. When he wasn't head-first in an engine, he enjoyed doing woodworking as well. It was just another way of making things fit and operate, only with wood instead of metal. His "precision-discipline" also carried over into yardwork. Jim took pride in keeping his lawn and surroundings under control and looking their best – and he enjoyed doing it. Since he liked being outside, he would often help friends out with farm work or fall harvest. Yet, busy as he was, he always tried to attend his grandkids' school programs and watch their sports activities. Quieter times found him working on jigsaw puzzles…he found it relaxing.
Jim was a member of the United Methodist Church and served his community as a Volunteer Fireman for many years.
On September 23, 2019, he passed from this life at the age of 74 years. Preceding him in death were his parents; step-mother: Hazel Rons; and his daughter, Debbie in 1991.
Thankful for having shared his life are his wife, Mary of Hartley, IA; his children: Brian (Kim) Rons of Primghar, IA, Tammy DeVlaeminck (Ken Ulatowski) of Spencer, IA, and Jennie Rons of Hartley, IA; six grandchildren: Thomas and Patrick Wubben, Kyle and Sydney DeVlaeminck, and Lily an Abby Rons; brother, Loyd (Carole) Rons of Pipe Creek, TX; sisters: Glenda Johnson of Medford, OR, and Janet (Ed) Schierholz of Hartley, IA; other relatives and friends.