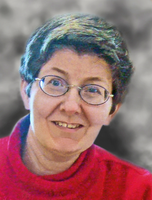 Wendy Lu Waund
Wendy Lu Waund, daughter of William "Bill" Waund and Emily (Getting) Waund, was born December 13, 1962 at Primghar, IA. She grew up on her parents' farm near Primghar, along with her two brothers, Michael and Matthew. Living in the country, a kid can enjoy the freedom of wide-open spaces, and riding around on the three-wheeler was one of Wendy's favorite things to do. There was always a cat roaming around to play with, or her faithful German Shepherd, Sandy. Taking trips in the family travel trailer was a fun event they all enjoyed.
Wendy received her education at the Primghar public school, graduating with the class of 1980. She then attended Iowa Western Community College at Council Bluffs, IA. Later, she moved to Village Northwest Unlimited in Sheldon, IA where she enjoyed her own apartment and took in several group trips.
Treasured times for Wendy included family gatherings, visits or phone calls – whether a birthday celebration or the holidays, it didn't matter. She shared a special kinship with her cousins and their families: Don, Dean, and David Getting; Debbie, Denise, and Dane Waund; Janelle, Johnna, Julie, and Curt Getting; J.P. Getting; Jamie and John Getting. A very special person in her life was Bill Kersting. Somehow, he could always make her laugh, and shared many meals and movies with her and her mother. A significant event for Wendy was being one of the torch bearers in the 2002 Special Olympics, along with her cousin, Denise. A commemorative trophy was proudly displayed in her room for all to see.
After relocating to Hartley, IA, Wendy lived at Community Memorial Health Center and enjoyed meeting all the residents there; getting to know them and their families. She looked upon her caregivers as extended family, always joked with them and seldom complained about anything. She always had something good to say about everyone she met. Wendy was a very non-judgmental person, accepting others as they are. Her attitude toward the normal, daily irritations we all face could be summed up in her favorite expression: "Whatever!" She attended most of the daily activities and especially liked word games, bingo, and outside trips. Because of her friendly demeanor, she soon became the "Mail Person" at the Center. Wendy was a member of the United Church of Primghar and attended the Hartley United Methodist Church.
On Friday, September 20, 2019, Wendy left this life to be taken into the waiting arms of her Lord. She joins her beloved, Pearl – with the big ears and nose kisses. With her passing, there will be a big gap in the lives of those who knew and loved her.
Left to keep her close in heart are her parents, Bill Waund of South Sioux City, NE, and Emily Waund of Spencer, IA; aunts: Sheril Getting of Sanborn, IA, Jean Getting Irwin of St. Petersburg, FL; uncles: "Bud" (Maggie) Waund of Ft. Myers, FL and Prior Lake, MN, John (Carol) Getting of Phoenix, AZ, Chuck (Joanne) Getting of Sanborn, IA; many cousins; other relatives and friends.
Preceding her in death are her brothers: Mike and Matt Waund; grandparents: Lloyd and Helen Getting, and Dunrith and Orleen Waund; and uncle, Paul Getting.