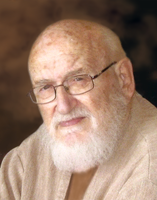 Marvin James Olhausen
Marvin James Olhausen, son of William and Dora (Nissen) Olhausen, was born October 10, 1928 in Hartley, IA. He spent his youth in the Hartley area, working at various jobs in and around town while attending school.
At the age of 17, Marvin enlisted in the United States Army. He served his country during WWII from 1946 until his honorable discharge in 1948.
On January 25, 1949, Marvin was united in marriage to Herberta Stanley at Las Vegas, NV. Three children were born to this union: Tom, Jeri, and Joanne. Following completion of a course through CE School of Commerce at Omaha, NE, Marvin was employed with the Illinois Central Railroad as a Traveling Agent and telegrapher. It wasn't uncommon for him to work 25 different stations in a year. Once he was elected to a union position, he spent a lot of time traveling to meetings all around the country. Needless to say, the family also moved around quite a bit, but eventually settled in Cherokee, IA.
After Herberta's death in 1978, Marvin continued working for the Illinois Central, and eventually met Jeanne (Post) Geerdes whom he married on December 31, 1980 at Sanborn, IA. The couple first made their home in Sanborn, but later purchased a house in Hartley. When his schedule with the railroad would allow, Marvin enjoyed taking on some lawncare jobs, and delivering mail for the Hartley Post Office. While he treasured the memories and friendships he made while working with the railroad, Marvin finally retired in 1985 after 37 continuous years. This gave him more free time to play cards with the guys at the Legion or throw a fishing pole in the water. He and Jeanne enjoyed camping together in the summer, and spending winters with family and friends in Arizona.
Marvin was a member of St. Paul's Lutheran Church and the American Legion both in Hartley, as well as a Union Rep. BRAC with the railroad.
On Sunday, September 15, Marvin passed from this life at the age of 90 years. Left to hold his memory close at heart are his wife, Jeanne Olhausen of Hartley, IA; his children: Tom (Renee) Olhausen of Sioux City, IA, Jeri Olhausen of Ottumwa, IA, and Joanne Olhausen of Des Moines, IA; grandsons: Dan (April) Olhausen and Mike (Nicole) Olhausen; great-grandchildren: Dylan, Carter, Ethan, Chloe, and Emily Olhausen; sister-in-law, Fredrica Olhausen of Las Cruces, NM; numerous nieces and nephews; step-children: Ronda (Wayne) Parrish, Judy Kuskie, Karen Sanders, Marla (Tom) Minear, and Dean Geerdes; 14 step-grandchildren; 21 step-great-grandchildren; two step-great-great-grandchildren; other relatives and many friends.
He was preceded in death by his wife, Herberta; his parents, Bill and Dora Olhausen; siblings: Alice (Dale) Sexton, Glenn (Fay) Olhausen, Gerald Olhausen, Heinie (Erna) Olhausen, Harry (Hulda) Olhausen, and Irvin (Reva) Olhausen.