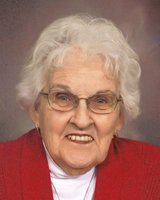 Alma Ruth Donkersloot
Alma Ruth Donkersloot, the daughter of Lucas and Gertie (DeWeerd) Rons was born July 19, 1928 at Boyden, IA. Alma graduated from Boyden High School in 1945. Having had a flair for styling people's hair since the age of 11, she attended Samuel's Beauty School in Sioux City, IA.
After she graduated, she began working in the best salons in Sioux City. She started dating Ed, who was attending Morningside College, also in Sioux City. Ed passed in 2013, after 65 years of marriage. After Ed's college graduation, they made their home in Sanborn, IA where Ed farmed his grandfather's farm and Alma started Alma's Beauty Salon. She was warned she would never succeed in Sanborn, but succeed she did and expanded the salon in her home and hired two additional hair stylists, turning the family driveway into a parking lot. She tried to retire many times, but there was always someone who said "can't you just do me?" and she just couldn't say no. She worked for 50 years while raising five children.
Alma was always surrounded by her loving family. Ed and Alma's home on the edge of town made it an easy drop-by for their many friends, and her children's friends. Her door was always open and she made everyone feel welcome with a pot of coffee and her much sought after homemade cookies. She enjoyed games and until recently, played nightly with her pals at Prairie View.
Alma is survived by four children: Leanne (Jeff) Cline, Elgin, IA, Mary Donkersloot, Los Angeles, CA, Mark Donkersloot, Sanborn, IA, Rhonda (Eric) Rosenbaum, Dakota Dunes, SD; 10 grandchildren: Nick Donkersloot, Luke (Hope) Cline, Corina (Chad) Anema, Alma (Keith) Sexton, Kate (Chris) Miller, Delia Donkersloot, Ashley Donkersloot, Emily (Aaron) Gunderson, Andrew Rosenbaum, and Jackson Proffitt, 13 great-grandchildren (and one on the way!).
Alma was preceded in death by her parents, her husband, all her seven siblings, son Lyle, and grandson Gavin.
Alma's siblings include Pete (Josie) Rons, Al Rons, Jeanette (Bill) Moret, Ed (Johanna/Hazel) Rons, Mina (Lloyd) Goodyear, Bill (Dorothy) Rons, Louis (Nelvina) Rons.