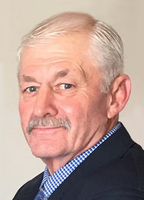 Rodger Wayne Burley
Rodger Wayne "Buck" Burley, son of Daryl "Mike" and Louise (Popp) Burley, was born August 17, 1949 in Hartley, IA. The eldest of four boys, Rodger spent his youth in Hartley and attended Hartley High School, graduating with the class of 1968.
In October of the following year, Rodger enlisted in the United States Coast Guard. He served his country for four years and saw the world including some time in Torrejon Air Base, Spain. He returned to his hometown and would call Hartley, IA home for the next 47 years.
On June 20, 1975, he was united in marriage to Paula Rae Smith at the United Methodist Church. They were avid dancers, often participating in weekend Danceland events. He answered his civil servant call and served as a volunteer firefighter in the Hartley Fire Department for 30 years. True to form, Rodger couldn't stay still in one career path. He spent time running Rog's Mobil, a foreman at Beef Specialists, Inc., and a feed truck driver at Cooperative Farmers Elevator. He also enjoyed many years tending bar at the American Legion.
Rodger also loved to spend his time walleye fishing, ice fishing, snowmobiling, street rodding and cheering on his beloved Hawkeyes. More importantly, he loved his life with his wife Paula, daughter Teresa and son Michael.
After a long battle with rare and separate health issues, Rodger passed peacefully from this life on August 4, 2019, with his family by his side.
Preceding in him death were his parents; his mother-in-law, Mae Smith; and father-in-law, Wilbur Smith.
Thankful for having shared his life are his wife, Paula of Hartley, IA; daughter, Teresa (USAF Retired) and Dan (USAF Retired) Keysor of Navarre, FL; son, Michael and Kylie Burley of Omaha, NE; his grandchildren: Tyler, Trey, Neiya, Bryson, Ashley, Matt, Kayleigh, Aubreigh, Haidyn and Max; his great-grandchildren: Brooklyn, London, Ireland, Layla, Tyler, Matthew Jr., Markus, Bryce, and Sierra; three brothers: Rodney (Beth) Burley of Hartley, IA, Todd (Barb) Burley of Des Moines, IA and Scott Burley of Minneapolis, MN; and many more relatives and friends.
Memorials may be directed to
The Rodger Burley Medical Fund
at United Community Bank in Hartley, Iowa