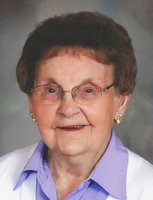 Norma H. Brinkert
Norma H. Brinkert (nee Steuck) was born on a farm near Primghar, Iowa, on April 27, 1919. She went to a rural school in Center township through 8th grade and then went to Primghar High School where she graduated in 1936. After a year of teacher training school, she taught in a rural school until she married Irvin Brinkert on June 1, 1941. Together, they raised five children on the Brinkert homestead with Norma being a busy partner in all the farm activities. She was known for her tasty brownies and took pride in her bountiful vegetable and flower gardens. In her quiet moments, she enjoyed watching birds - especially her favorite cardinals. She also had a knack for remembering the birthdays of all her relatives and friends. Each one would receive a card acknowledging their special day along with a friendly letter.
After her children were grown, Norma worked part-time at Paradox Florist, as well as Sanborn Drug where she enjoyed greeting all her customers with her ever-present smile. She was also very active in St. John's Lutheran Church in Sanborn, volunteering as a Sunday School teacher, participating in the Ladies Aid, and serving for 40 years as the secretary for the local branch of Aid Association for Lutherans.
When Irvin retired from farming, they moved to the town of Sanborn. Upon his death in 1989, she relocated to a four-plex senior condo where she lived until 2012 when she became a resident at Prairie View Nursing Home in Sanborn. She passed away there on July 3, 2019, shortly after celebrating her 100th birthday.
Norma was devoted to her family and enjoyed attending all their special events. She will be greatly missed by her children: Ronald (Sharon) Brinkert, Jan (Terry) Gambaiani, Roger (Carol) Brinkert, and Linda Brinkert; son-in-law, Wayne (Shirley) Piehl; 13 grandchildren; and 24 great-grandchildren; her sisters: Loraine McCauley and Irene Smith.
She was preceded in death by her husband, Irvin; her daughter, Ileene; her parents, William and Dora (Petersen) Steuck; brothers: Fred and Arnold Steuck; sister, Ruth Nelson; and great-granddaughter, Elisabeth Brinkert.
In lieu of flowers, memorials may be directed to
St. John's Lutheran Church, Sanford Sheldon Hospice,
or Prairie View Nursing Home.
.