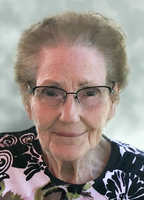 Rowena Elizabeth Thompson
Rowena Elizabeth Thompson, daughter of James Sylvester and Myrtle Rowena (Holman) Elliott, was born May 12, 1930 at San Antonio, Texas. She spent her youth around San Antonio with her three other siblings, and attended school there.
On October 12, 1956, Rowena was united in marriage to Glenn Henry Thompson at San Antonio. With Glenn being in the construction business, they lived in several different places over the years – even as far away as Alaska. Rowena had her hands full taking care of her growing family and making sure their home was a warm, safe place, regardless of the address. Often times they would travel to attend other churches as she and Glenn were part-time evangelists with the Pentecostal Church.
Rowena's special talent was found in her musical ability! She enjoyed listening to gospel music and wrote many of her own beautiful gospel songs. She was able to play almost any instrument she picked up, but was especially fond of the harmonica and playing guitar. Above all, Rowena loved to sing! Her witness to the Lord was always evident in her music.
In later years, Glenn and Rowena decided to move to a place in the country near Hartley, Iowa where their daughter and family were living. Glenn died May 11, 2018 and Rowena soon followed on Tuesday, June 11, 2019; she was 89 years of age.
Those left to keep her memory close at heart are her children: Darrell Manning and Dalton Thompson both of Texas, Rowena Manning, Kenny Hopkins, and Melodie Weaver all of Arkansas, and Kris (Ricky) Wilson of Iowa; 14 grandchildren; 16 great-grandchildren; other relatives and friends.
Preceding her in death were her husband, Glenn; two sons: Wallace Manning, and Lloyd Manning; her parents, James and Myrtle Elliott; two brothers: James "Jimmy" Elliott and Jake Elliott; and her sister, Virginia Everett.