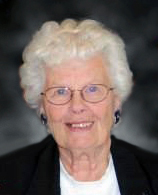 Geraldine LaVonne "Jeri" Hollowell
Geraldine LaVonne "Jeri" Hollowell, daughter of William and Iola (Hopkins) Hagedorn, was born December 13, 1929 at Calumet, Iowa. She spent her youth in the Hartley and Primghar, Iowa areas, where she received her education, graduating from the 12th grade.
On September 18, 1949, Jeri became the bride of James A. Hollowell at Hartley, Iowa. Eventually, the family grew to include three children: Lisa, Kelly, and Kirby. Together, they were engaged in farming south of Hartley where Jeri spent many hours outdoors tending her flowers and big vegetable garden. Helping out on the farm and raising three kids kept her busy, but she always found time to bake something good for everyone to enjoy. Jeri was a member of The Red Hats, and Hartley United Methodist Church, participating in events of both groups.
In 1979, James and Jeri decided to take life a little easier and relocated to Okoboji, Iowa. James continued with the farming operation near Hartley, and Jeri looked forward to times spent with her family…especially visits with her grandchildren whom she dearly loved. When they could work it in, James and Jeri enjoyed traveling together – just seeing some different country or visiting friends and relatives. In 2012, they moved to an assisted living facility where James passed away in 2017. Jeri soon followed him on Monday, May 6, 2019, at the age of 89 years.
Left to cherish her memory are her children: Lisa Clipperton of San Antonio, Texas, Kelly Hollowell of Everly, Iowa, and Kirby (Marcy) Hollowell of Hartley, Iowa; eight grandchildren; eight great-grandchildren; her brother, Robert (Dell) Hagedorn of Oklahoma; sisters: Joan Taylor of Hartley, Iowa, and Shirley (Fred) Sorenson of Spencer, Iowa; other relatives and friends.
Preceding her in death were her husband, James Hollowell; her parents, William and Iola Hagedorn; her Mother and Father-in-law; brothers-in-law: Gaylord Taylor, and John Madden; sisters-in-law: Verdeen Hagedorn and Lois Madden.