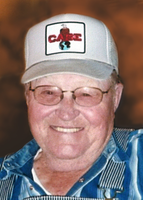 John Henry Klatt, Sr.
John Henry Klatt, Sr., fifth child of Otto and Pearl (Wells) Klatt, was born on a farmstead southeast of Melvin, IA on October 17, 1928. He spent his youth in rural Osceola county where he attended the local country school.
John served his country with the United States Army during the Korean War. Following his discharge, he returned to the Melvin area and continued farming. On December 19, 1956, John was united in marriage to the love of his life, Gwendolyn Mae "Gwen" Cooke, at the court house in Sioux Falls, SD. The couple began their life together farming row crops and raising livestock near Melvin, eventually becoming the parents of seven children.
Being a farmer at heart, John thoroughly enjoyed what he did – being outdoors, managing his farming operation, and including his children in the day-to-day "work and rewards" system that agriculture certainly provides. He was a dedicated family man, and a good neighbor and friend to all who knew him; always there to lend a helping hand. John looked for the joy in life, and his ready sense of humor would invariably help set things right again.
Wanting to take life a little easier, John and Gwen left the farm in 1994 and moved into the town of Melvin. However, that didn't mean the farm left John, as he continued "farming" with a huge garden every summer and tinkering around in the garage. For many years, he had enjoyed using his agricultural skills working for Mark and Marsha Wynja – a family that held a very special place in his heart.
When he wasn't outside working, John got a kick out of watching old westerns on T.V., Wheel of Fortune game program, and the Gospel Hour. Quite often, there would be a puzzle going on the table as well. He was a member of the American Legion and the United Methodist Church, both in Melvin.
On Wednesday, April 10, 2019, John passed from this life at the age of 90, once again reuniting him with his beloved wife, Gwen.
Left to cherish his memory are his children: Rebecca (Kevin) Pedley of Sanford, NC, John (Patricia) Klatt, Jr. of Harris, IA, Joan Klatt of Rochester, MN, Jacqueline (Timothy) Garner of Bellevue, WA, and Jeffery (Lisa) Klatt of Lakota, IA; 17 grandchildren; many great-great-grandchildren; brothers: Bill Klatt and Larry (Lois) Klatt all of Hartley, IA; sisters: Betty (Dick) Schmidt and Ellen Ackerman all of Spencer, IA, and Kathryn Karlsen of Melvin, IA; sister-in-law, Sandi Wohlert of Athens, GA; brother-in-law, Gene (Debbie) Cooke of Volin, SD; other relatives and friends.
Preceding him in death were his parents; his wife, Gwendolyn Klatt; children: Robert Klatt, Frederick Klatt in infancy, and Rhonda Lauderbach; brothers: Jim Klatt, Otto "Butch" Klatt, Jr., and Tom Klatt; sisters: Anne Klatt in infancy, Merna Jacobs, and Lola Yock; brothers-in-law: Dale Cooke and Dean Cooke.