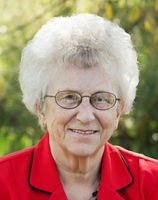 Thelma June Verhoef
Thelma June Verhoef, the daughter of Gerrit and Bertha (Bajema) Vaandrager, was born at the farm home west of Sheldon, IA on October 8, 1935. Her childhood years were spent in Sheldon where she attended Sheldon Christian School and Western Christian High School at Hull, IA, graduating in 1953.
After high school, Thelma worked as a secretary at Ritter Farmers Elevator for three years. She then worked at the Sheldon National Bank for five years, followed by eight years at Citizens State Bank, also in Sheldon.
On March 28, 1967, Thelma was united in marriage to Clarence Verhoef at the Christian Reformed Church in Sheldon. They made their home in Sanborn, IA and later moved to a farm north of Sanborn. They were blessed with three children: Bethany Joy, Amy Jo, and Michael Jay. In 2001, they moved into the town of Sanborn. They celebrated 44 years of marriage together.
Clarence passed away on June 11, 2011. Thelma moved to Fieldcrest Assisted Living in Sheldon in December of 2013, and later to Sheldon Senior Care in January of 2017. She passed away there on Saturday, February 2, 2019 at the age of 83.
Thelma was a Gems leader, Sunday School teacher, and volunteered at the Sanborn Christian School library for nearly 30 years. She was a member of the Sanborn Christian Reformed Church where she attended Ladies Bible Study and Coffee Break. She will be remembered for her hearty laugh, tight bear hugs, love of children, and being our biggest cheerleader and prayer warrior. She had a deep love for her family, friends and the Lord.
Thelma was preceded in death by her husband, Clarence; her parents; one brother, Francis Vaandrager; her son-in-law, Edward Brands; sisters-in-law: Thelma Eekhoff and Jean Hubers; and brother-in-law, Herman Verhoef.
Survivors include her three children and their families: Bethany Brands of Spirit Lake, IA and her children, Brevin and Brianna; Amy and Mark Haken of Little Rock, IA and their children, Joshua, Matthew and Lindsey; Michael and Kristie Verhoef of Sanborn, IA and their children, Todd (Emily) Verhoef and Ashley (fiancé, Ben Vermeer); one brother, Kenneth (Thelma) Vaandrager of Sheldon, IA; two sisters: Everdean (Abram) Van Dyke of Sheldon, IA, and Bonnie (William) Nanninga of Jenison, MI; sisters-in-law: Gretta Vaandrager of Grand Rapids, MI, Leanna (LeRoy) Van De Stowe of Rapid City, SD, Esther (Danny) Miller of Omaha, NE, and Rosalee Verhoef of Artesia, CA; brothers-in-law: Dr. Vernon (Nan) Verhoef of Newark, NJ, Jerry (Deb) Verhoef of Hull, IA, John Eekhoff of Kanawha, IA, and Harris Hubers of Edina, MN; many nieces and nephews; other relatives and friends.
~ In lieu of flowers, the family requests memorials be directed to




Sanborn Christian School or Western Christian High School ~