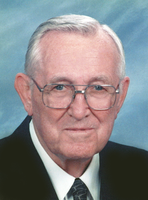 Martin Breems
Martin Breems, son of Garret and Annie (Ledeboer) Breems, was born August 11, 1927 on a farm near Raymond, MN. He was baptized sixteen days later, on August 27th.
He spent his youth in the Raymond area, attending the local country school through the 8th Grade. He completed his high school education at Clara City, MN. Following graduation, Martin served his country with the United States Navy at the end of WWII, being stationed for a time in Hawaii. Upon his honorable discharge, he furthered his education at Calvin College in Grand Rapids, MI, graduating in 1954.
While attending college, Martin was united in marriage to Lorrene Bolkema on August 22, 1951 at Rock Valley, IA. The couple made their home in Grand Rapids where their oldest son, Phil, was born. In 1954, Martin began teaching at Manhattan Christian School, located in Manhattan, MT. Sons, Dave, Gary, and Don were all born here. The family relocated to Edgerton, MN in 1958, where, for the next 13 years, Martin taught at Southwest Minnesota Christian High School. During the time at Edgerton, Martin attended Mankato State College at Mankato, MN and Kearney State University at Kearney, NE. In 1971, they moved to Sheldon, IA, and in 1973, to Sanborn, IA where Martin was employed as an agent for Prins Insurance located in Sanborn. He sold life and health insurance, then specialized in trucking insurance. He retired on October 1, 1991.
After retirement, Martin and Lorrene enjoyed their time together traveling around the country, spending their winters in a warmer climate at Wagons West in Tuscon, AZ. When they were back home in Sanborn, Martin loved to get his hands dirty tending to his garden. He was always proud of his produce, particularly the hand-shelled popcorn he gave to the grandkids. He also enjoyed a good game of cards, playing pool or fishing, but his favorite time was spent getting lost in a book…he loved to read.
Martin was an active participant in the different churches they attended. He served as an elder at First Christian Reformed in Edgerton, and also at Christian Reformed in Sanborn. He taught catechism class and led bible studies, Ladies Aid, and Men's Society, using his experience as a teacher long after he had retired. He passed from this life on Sunday, October 14, 2018 at the age of 91 years.
Martin will be fondly remembered by his surviving children: Phil (Sherri) Breems of Prinsburg, MN, David Breems of St. Paul, MN, Gary (Daisy) Breems of Tyler, MN, and Don (Deb) Breems of Spirit Lake, IA; 11 grandchildren; 18 great-grandchildren; one sister, Helena Swierenga of Prinsburg, MN; one brother, Henry Breems of New Brighton, MN; other relatives and friends.
He was preceded in death by his wife, Lorrene; his parents; two brothers: Gordon Breems and Harvey Breems; one sister, Theresa Frikke; daughter-in-law, Sue Breems; and great-granddaughter, Autumn Diekevers.
Celebration of Life
Martin Breems
Born ~ August 11, 1927
Died ~ October 14, 2018
Age ~ 91 years 2 months 3 days
Funeral Service
Wednesday, October 17, 2018
11:00 a.m.
Christian Reformed Church
Sanborn, Iowa
Clergy ~ Rev. Al Van Dellen and Rev. Lee Christoffels
Organist ~ Starla Reitsma
Musical Tribute
Rev. Lee Christoffels
"His Eye Is On The Sparrow"
Congregational Singing
Processional ~ "O Sacred Head Now Wounded"
"Children Of The Heavenly Father"
"Because He Lives"
Recessional ~ "Victory In Jesus"
Pallbearers ~ Grandchildren
Kent Breems Kristin Rucks Justin Breems Amanda Young
Seth Breems Sarah Breems-Diekevers Michelle Breems
Laura Olson Kayla Breems Jesse Breems Jason Breems
Ushers
Jerry Buteyn ~ Harvey Van Oort
Interment
Roseland Cemetery
Sanborn Iowa