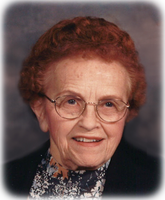 Eileen Kathryn Clark
Eileen Kathryn Clark, 99, of Hartley, Iowa, passed away at the Community Memorial Health Center in Hartley on October 4, 2018.
Eileen, the daughter of James and Erna (Brechler) O'Brien, was born at Ayrshire, Iowa on March 1, 1919. She received her education in Ayrshire and Graettinger, Iowa, graduating from Graettinger High School in 1935.
She was united in marriage to Merle Clark in 1938 at the Catholic Church in Graettinger. To this union one son, Terry, and one daughter, Patricia, were born. Following their marriage, they lived in Laurens, Iowa. Later, Merle was in the Navy, so they lived in many states. After Merle's discharge, they farmed in the Moneta and Royal, Iowa areas. They moved to Hartley in 1963. While living in Hartley, Merle was a painter. Eileen worked in Spencer, Iowa, and later worked at the Hartley Hospital and Nursing Home for over 30 years.
Eileen and Merle did lots of traveling and enjoyed their grandchildren and great-grandchildren. Being a great cook and baker, Eileen always had coffee and goodies for her guests.
She was a member of St. Joseph's Catholic Church and St. Joseph's Altar Society in Hartley. She also was a member of the V.F.W. Auxiliary and the Catholic Daughters of America in Spencer.
Eileen was preceded in death by her husband, Merle; her parents, James and Erna O'Brien; sisters: Florence Maurstad and her husband, Ronald Maurstad, Patricia O'Brien in infancy; and brothers: James O'Brien, Bob O'Brien and his wife, Leola, Bill O'Brien and his wife, Donalee.
She is survived by her son, Terry Clark and his wife, Kathy of Spirit Lake, Iowa; her daughter, Patricia and her husband, Scott Steinmetz of Hartley, Iowa; five granddaughters: Kim and her husband, Mike Broderick, Sherry and her husband, Mark McCombs, Julie and her husband, Craig Dice, Jody and her husband, Monte Warburton, and Jill and her husband, Shawn Emerson; great-grandchildren: Shawn and Brandon Broderick, Nicole and Mitch McCombs, Justin and Joshua Dice, Jenna and Holli Warburton, and Jaxon Emerson; sister-in-law, Shirley O'Brien; as well as other relatives and friends.