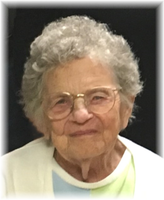 Bertha Vander Plaats
Bertha Vander Plaats, daughter of James and Tena (De Groot) Van Dyke, was born January 8, 1922 near Hospers, Iowa in Sioux County. She spent her youth in the Hospers and Melvin, Iowa areas; attended the local country schools, and graduated from the 8th grade at Melvin.
On June 7, 1942, Bertha was united in marriage to James Vander Plaats in Sanborn, Iowa. To this union were born five children. Their married life began on a farm near Hartley, Iowa, where together they raised their family and worked the land. Jim and Bertha retired to Sanborn in 1981.
Jim and Bertha were members of the Sanborn Christian Reformed Church until 1995 and became charter members of the Cornerstone United Reformed Church of Sanborn that same year. Bertha enjoyed spending many hours creating beautiful crochet pieces, doing jigsaw puzzles, baking and gardening. Her husband passed away in January of 2007. She moved into the Prairie View Retirement Home of Sanborn in 2017, living there until she passed from this life on April 5, 2018 at the age of 96 years. She will always be remembered by those who knew her for her gentle and loving spirit and for her unwavering faith in her Lord and Savior, Jesus Christ.
Along with her husband and parents, she was preceded in death by her four brothers and their wives: Jake (Bessie) Van Dyke, Herman (Minnie) Van Dyke, John (June) Van Dyke, and Marion (Annette) Van Dyke; her five sisters and their husbands: Rose (Bill) DeBoer, Tena (Jake) Van Dyke, Ann (Carl) Talsma, Reka (Jake) Andringa, and Beatrice (Pete) Andringa; daughter-in-law, Gloria Vander Plaats; one grandson, two great-grandchildren; and one great-great-grandchild.
Bertha will be lovingly remembered by her five children and their families: Thelma and her husband, Ken Haack of Harris, Iowa, Carolyn and her husband, Jerry Goedhart of Orange City, Iowa, Dennis Vander Plaats of Sioux Center, Iowa, Les and his wife, Barb Vander Plaats of Orange City, Iowa, and Rose and her husband, Tom Van Engen of Mangilao, Guam; 19 grandchildren; 32 great-grandchildren; three great-great-grandchildren; many nieces, nephews, other relatives and friends.
Celebration of Life
Bertha Vander Plaats
Born ~ January 8, 1922
Died ~ April 5, 2018
Age ~ 96 years 2 months 27 days
Memorial Service
Friday, April 13, 2018
11:00 a.m.
Cornerstone United Reformed Church
Sanborn, Iowa
Clergy ~ Rev. Dan Donovan
Pianist ~ Alyda Haack
Time Of Reflection
Sarah Benbow
Musical Tribute
Joshua Vander Plaats
"Precious Lord"
Congregational Singing
Processional ~ "Great Is Thy Faithfulness" #408
"My God, How Wonderful Thou Art" #328
Recessional ~ "When In The Night I Meditate" #22
Pallbearers - Grandchildren
Diane, Doug, Kevin, Rob; Kris, Mike; Tim, Brad, Dan, Dusty,
Nathan, Josh; Rachel, Sarah, Emily; Matt, David, Jeremy
Ushers
Junior Postma ~ Jerry Van Beek
Interment
Roseland Cemetery
Sanborn, Iowa