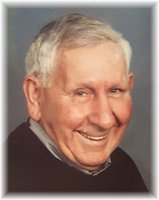 Donald Julius Meyer
Donald Julius Meyer "The Beav", age 90, passed away on April 4, 2018, at Mercy Medical Center North Iowa in Mason City, Iowa.
Don was born on October 18, 1927, on the family farm near Hartley, Iowa. He was the son of Julius and Emma (Wiebel) Meyer. Don was baptized and confirmed at St. Paul's Lutheran Church at Hartley. He attended Lincoln Township County School until the eighth grade and graduated with the class of 1945 from Hartley High School. Upon graduation, he attended Iowa Teachers College in Cedar Falls, Iowa until he returned to take over the family farm. He spent his lifetime raising livestock and "weed-free" row crops. He served in the Korean Conflict from 1951 to 1953.
In June of 1957, Don married the love of his life, Janice Kruger. They were blessed with three children: Dr. Steve (Dana) Meyer of Sioux City, Iowa, and their children, Joshua, Elizabeth, Joseph, and Lexie Meyer and Eden and King Pitzenberger; Peter and Cathy (Meyer) Svare of Garner, Iowa, and their children, Zachary (Sarah) Svare and Nicholas (Danelle) Svare; Dr. Mark (Ann) Meyer of Mason City, Iowa, and their children, Matthew, Makenzie, Megan, and Macy.
In 1995, Don and Janice moved to Lake Okoboji and spent twenty fabulous years there. Don continued to farm during this time before moving to Garner in 2014.
Anyone who knew the Beav, knew he was a sports fanatic. He drove many miles and spent many joyous hours watching his children and grandchildren compete, always offering words of love and encouragement in wins as well as losses. Don loved his St. Louis Cardinals and his Iowa Hawkeyes. In his free time, he also enjoyed trips to the casino and never turned down a handful of Cheetos and a big bowl of ice cream.
Don served as an elder and council member at St. Paul's Lutheran Church in Hartley. He also served as the board president of the Hartley Community Hospital for two terms, and was instrumental in organizing the first Hartley Athletic Booster Club.
He is survived by his wife, Janice of Garner, Iowa and all of his children, grandchildren, and many nieces and nephews. Preceding him in death were his parents, brothers: Wilbert and Marvin, and sisters: Lorna and Nelda.
Celebration of Life
Donald J. Meyer
Born ~ October 18, 1927
Died ~ April 4, 2018
Age ~ 90 years 5 months 17 days
Funeral Service
Monday, April 9, 2018 ~ 10:00 a.m.
St. Paul's Lutheran Church
Hartley, Iowa
Officiating ~ Pastor Chris Nitzel
Pastor Scott Kozisek
Organist ~ Donna Ahlers
Musical Tribute
Dawn Johnson
"The Lord's Prayer"
"How Great Thou Art"
Congregational Singing
Processional ~ "Lift High The Cross"
"Amazing Grace"
Recessional ~ "Abide With Me"
Pallbearers
Zach Svare Nick Svare Matt Meyer Joshua Meyer
Joseph Meyer King Pitzenberger Makenzie Meyer
Megan Meyer Macy Meyer Elizabeth Meyer
Lexie Meyer Eden Pitzenberger
Ushers
Allan Dacken ~ Gordon Williamson
Military Graveside Rites
Arthur W. Kirchhoff Post #288
Hartley, Iowa
Burial
Pleasant View Cemetery
Hartley, Iowa