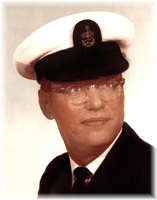 Ronald Howard Brehmer
Ronald Howard "Ron" Brehmer, son of John Merritte and Lucile Rose (Kunst) Brehmer, was born August 25, 1937 in Mankato, Minnesota. He spent his childhood in the Hartley, Iowa area where he received his education, graduating from Hartley High School on May 19, 1955.
Following graduation, Ron served his country with the United States Navy, beginning in June of 1955. During his military career, he served aboard the USS Cochrane and the USS Brooke, earning the Viet Nam Service Medal, Viet Nam Campaign Medal, Good Conduct Medals, and a Letter of Commendation. He was honorably discharged in August of 1974 at Bremerton, Washington, having served over 19 years.
During his time in active service, Ron was united in marriage to Marjorie Kay Gathman on June 22, 1968, at the United Methodist Church in Hartley, Iowa. Four children were born to this union: Mark, Sheila, Dan, and Jennifer.
Once Ron retired from the military, the family returned to Hartley where Ron worked for the city for five years. He was then employed at Northwest Iowa Technical College located at Sheldon, Iowa as an instructor in the electronics department. He retired after nineteen years, which left him more time to do what he enjoyed most: gardening, gambling and get-away's to Hart Ranch camp grounds at Rapid City, South Dakota. He never missed an opportunity to be outdoors, and the experience was only made better when shared with his family.
Ron passed from this life on April 1, 2018 at Spencer, Iowa at the age of 80 years. Preceding him in death were his parents, John Brehmer and Lucile Leth; three brothers: Jack Brehmer, Ray Brehmer, Terry Leth; sister-in-law, Carol Leth; and brother-in-law, Alvin Steffens.
Left to cherish his memory are his wife of 49 years, Marge Brehmer of Spencer, Iowa; his children and spouses: Mark (Julie) Brehmer, Sheila (Terry) Aldrich, Dan (Joni) Brehmer all of Spencer, Iowa, and Jennifer (Brady) Westphal of Hartley, Iowa; grandchildren: Scott (Amy). Jackie (Tyler), Devin, Melissa (Matt), Ryan (Ashley), Ceselie (Josh). Kyle (Brandee), Jarod, Jeff (Brandi), Jenni, Nathan, and Ashley; 15 great-grandchildren; one sister, Sally Steffens; three brothers: Dennis (Joanne) Leth, Richard Leth, and Jerry (Susan) Leth; sisters-in-law, Pam Leth and Elaine Brehmer; sister and brother-in-law, Georgia (Robert) Jensen; many other family members and a host of friends.
Celebration of Life
Ronald H. Brehmer
Born ~ August 25, 1937
Died ~ April 1, 2018
Age ~ 80 years 7 months 6 days
Funeral Service
Thursday, April 5, 2018
10:30 a.m.
Hartley Funeral Home Chapel
Hartley, Iowa
Clergy ~ Rev. Marvin Lindley
Special Music
"If Heaven Wasn't So Far Away"
"Broken Halos"
"Amazing Grace"
"I Will Rise"
Pallbearers
Ryan Brehmer Devin Brehmer Ceselie Rittenhouse
Josh Rittenhouse Nathan Westphal Ashley Westphal
Kyle Pratt Brad Leth Josh Leth
Honorary Pallbearers
Ron's Great-Grandchildren
Military Graveside Rites
Arthur W. Kirchhoff Post #288
Hartley, Iowa
Interment
Pleasant View Cemetery
Hartley, Iowa