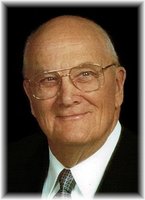 Daryle LeRoy Getting
Daryle LeRoy Getting was born August 13, 1924 to LeRoy and Margaret (Blauhauvietz) Getting at Sanborn, Iowa. He grew up on a farm northwest of Sanborn and graduated from Sanborn High School in 1941. He furthered his education for two years at Iowa State College in Ames, Iowa. From 1943 to 1946, Daryle served his country in the Army Air Corps, earning the rank of 2nd Lieutenant and navigator.
Following his honorable discharge, he was united in marriage to Marian Pearson of Perry, Iowa on June 8, 1947 at the Collegiate Presbyterian Church in Ames. After graduating from Iowa State in March, 1948, Daryle and Marian moved back to Sanborn to farm with his father, LeRoy, and brother, Don. Daryle was an active member of the First Presbyterian Church in Sanborn, Iowa Farm Bureau, and participated in other local activities. In the early 1950's, the family relocated to Anaconda, Montana where Daryle operated a large sheep breeding ranch in the beautiful foothills of Mt. Haggin. Eventually, they returned to Sanborn, and resumed farming until 1963, when they moved to Yankton, South Dakota. Daryle was always a salesman – OCCO Feeds, Success Motivation Institute and Valley Irrigation Systems. The family moved to Sioux Falls, South Dakota in November of 1969 to expand Getting Industries in the irrigation business. The company was involved in drilling wells, laying underground pipe and installing Valley center pivot irrigation systems in South Dakota, North Dakota, Minnesota and Iowa. After closing the irrigation business, Daryle became a commodity broker and moved to Des Moines, Iowa in 1981. He could be described by some as an "on-going student of life". He loved to learn, to study and advance his knowledge - not only in the business world, but also in the Bible, and its application to life.
In 2007, Daryle moved to Winter Park, Florida to be with his daughter, Maureen May and her family. In 2011, he became a resident at Horizon Bay Assisted Living in Altamonte Springs, Florida, until November, 2016 when he returned to Des Moines to live at Glen Oaks Alzheimer Care Center located in Urbandale, Iowa. He was a member of Central Presbyterian Church in Des Moines. On March 27, 2018, Daryle peacefully passed away with family at his side, having reached the age of 93 years.
Daryle survived by his children: Mary (Doug) McFarland, Roy (Holly) Getting, Ray (Barb) Getting, Richard Getting, Melanie (Craig) Houg, Maureen May; 14 grandchildren; 19 great-grandchildren; one sister, Janice Charpentier; other relatives and friends. He was preceded in death by his parents, LeRoy and Margaret; his brother, Don; wife Marian; son-in-law, Jonathan May; and great-granddaughter, Opal Getting.
~ Memorial gifts may be directed to First Presbyterian Church of Sanborn ~
Celebration of Life
Daryle L. Getting
Born ~ August 13, 1924
Died ~ March 27, 2018
Age ~ 93 years 7 months 14 days
Funeral Service
Saturday, March 31, 2018 ~ 11:00 a.m.
First Presbyterian Church
Sanborn, Iowa
Clergy ~ Rev. Gregg Johnson
Pianist ~ Gayle Vander Woude
Musical Tribute
Maureen May, Cellist
"Amazing Grace"
Congregational Singing
"Onward, Christian Soldiers" #479
"Battle Hymn Of The Republic" #569
Pallbearers
Matt Getting Stuart McFarland Wesley McFarland
Ian Charpentier Don Getting Dean Getting
Honorary Pallbearers
Steve Houg David Getting Andrew Getting
Nathan May Elliot May Nate Sammler
Military Graveside Rites
Sanborn American Legion
Earl T. Conaway Post #318
Interment
Roseland Cemetery
Sanborn, Iowa