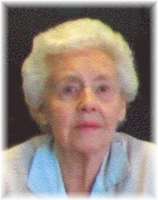 Lorrene Margaret Moermond
Lorrene Margaret (Harrington) Moermond, daughter of Leo M. and Ruth I. (Sweeney) Harrington, was born April 5, 1922 on a farm north of Sanborn, Iowa. She spent her youth in the Sanborn area, where she received her elementary education; earning her graduation diploma from Sanborn High School.
Following high school, Lorrene worked at various businesses at Hartley, Iowa. She was united in marriage to Donald Moermond and had two sons: Denny and Rob.
Eventually, Lorrene relocated to Milwaukee, Wisconsin, and pursued a career in nursing. After obtaining her LPN certificate, she was employed at Columbia Hospital in Milwaukee for many years, most of which were spent in the surgical department. When her mother became ill, Lorrene moved back to Hartley to help care for her. During that time, she worked in the surgical departments at the Hartley Hospital as well as the Sheldon Hospital in Sheldon, Iowa. Later in her career, Lorrene was employed at Prairie View Nursing Home in Sanborn where she worked for several years before her retirement.
Lorrene spent her entire life caring for others; from her own family to those whose health required her knowledge and skill. Her compassion and genuine concern was evident by the way she dealt with the people she came in contact with. She always enjoyed time spent with family, and was ready and willing to engage in a good card game whenever time allowed.
On Sunday, March 25, 2018, Lorrene passed from this life in Spencer, Iowa at the age of 95. Preceding her in death were her parents, Leo and Ruth Harrington; her two sons: Denny and Rob Moermond; her brothers: James Harrington, Robert Harrington, and Donald Harrington; a sister, Mary Uhe, and former husband, Don Moermond.
Left to cherish her memory are her sister, Marjorie Yakel of Charlotte, North Carolina; her sisters-in-law, Karen Harrington (wife of the late James Harrington), and Vern Harrington (wife of the late Don Harrington); many nieces, nephews; other relatives and friends.

Celebration of Life
Lorrene M. Moermond
Born ~ April 5, 1922
Died ~ March 25, 2018
Age ~ 95 years 11 months 20 days
FUNERAL SERVICE
Friday, March 30, 2018
11:00 a.m.
Hartley Funeral Home Chapel
Hartley, Iowa
Clergy ~ Pastor John Syvertson

Special Music - CD
"Amazing Grace"
"In The Garden"
"Irish Blessing"
Pallbearers
Tom Albin Jim Unrau
Steve Uhe Ron Uhe
Interment
Pleasant View Cemetery
Hartley, Iowa