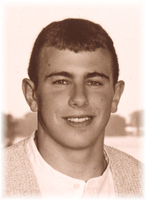 Drew Thomas Steinbeck
Drew Thomas Steinbeck was born April 24, 1981 in Sioux City, Iowa to John and Mary (Ter Beest) Steinbeck. As a child, Drew loved to be outside along with his family. He always had a pet cat or dog in his arms or near him. Ice fishing and hockey on their pond were activities Drew never grew tired of. Making forts in the evergreens and fishing from a home made raft with friends, 4-H and Boy Scouts were enjoyed by Drew in his early childhood.
Family time camping in Yellowstone and the Black Hills, as well as in the back yard were treasured times for Drew. As he got older, he enjoyed deep-sea fishing in the Florida Keys, Mexico, and Costa Rica with his sister and parents.
Drew attended Hartley-Melvin-Sanborn School, graduating with the class of 1999. He tried every sport, but his real love was football. He played for two years at Buena Vista University in Storm Lake, Iowa where he also played rugby. He came home and began farming with his dad, and later purchased an acreage nearby. Drew did not actively farm for long as he became more debilitated by complications of his illnesses. In 2011, he moved home with John and Mary where they cared for him for the next seven years. Drew had many stays at Mercy Medical Center over the years, and had just moved into Touchstone Living Center in Sioux City when his heart gave out on March 24, 2018.
Drew is survived by his mother, Mary Steinbeck of Hartley, Iowa; his sister, Sara Steinbeck of Rock Island, Illinois; maternal grandfather, David Ter Beest of Orange City, Iowa; several aunts, uncles, and cousins.
Preceding him in death were his father, John Steinbeck; his infant brother, Jason Steinbeck; his grandparents, Garland and Anne (Oostenbrug) Steinbeck; and his grandmother, Elaine (Beltman) Ter Beest.
Celebration of Life
Drew Thomas Steinbeck
Born ~ April 24, 1981
Died ~ March 24, 2018
Age ~ 36 years 11 months
Memorial Service
Saturday, April 7, 2018
1:00 p.m.
United Methodist Church
Hartley, Iowa
Officiating
Rev. Dr. Marcia Moret Sietstra
Selected Scripture
Luke 15:1-7
Mark 2: 1-5
Usher
David Christenson
Pianist ~ Anne Plageman
Special Music
"Still Breathing"
Musical Tributes
John Ter Beest and Ruth Vander Lee
"Your Grace Still Amazes Me"
Emily Rockhill
"Blessings"
Recessional
"What A Wonderful World"
Lewis Armstrong
"Here Comes The Sun"
The Beatles