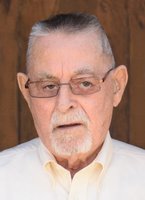 James Robert "Jim" Kuiper
James Robert "Jim" Kuiper, son of Samuel and Bernice J. (Dewitt) Kuiper, was born January 6, 1927 at Ashton, Iowa in Osceola County. He grew up in the Sanborn and Sheldon, Iowa area and received his early education through the local country school system.
In September of 1950, Jim served his country in the United States Army for two years during the Korean War. He was honorably discharged in September of 1952.
Upon returning home, Jim was united in marriage to Peggy Lois Hadfield at the Methodist Church in Sheldon, Iowa. They enjoyed 43 years together and raised three children: Robert, Rick, and Judy. Because he was raised on a farm and knew firsthand the value of honest work, Jim was willing and able to apply himself in different fields of employment; from agricultural labor to custodial work. Later in his life, he moved to Midwest City, Oklahoma where he remained for over 20 years. During that time, Jim was outdoors as often as he could be; usually with a fishing pole close by in the summer months, and a shotgun during hunting season. Naturally, camping was another favorite event, especially if he could share it with his children or grandchildren...it always meant more to be with family.
Eventually, his health dictated a move, so he relocated to Battle Creek, Iowa to be near his daughter. He looked forward to visits from family and Pastor Cormeny from St. John's Lutheran there in town. Although he would rather have been outdoors fishing or just taking in the sun and fresh air, he never complained and made each day as full as he could. On Sunday, March 11, 2018, Jim passed from this life at the Willow Dale Wellness Village in Battle Creek at the age of 91 years.
He leaves behind to remember him his children: Robert Dale Kuiper of Holland, Minnesota, Rick and his wife, Julie Kuiper of Choctaw, Oklahoma, and Judy and her husband, John Hayward of Battle Creek, Iowa; nine grandchildren; 22 great-grandchildren; one great-great-grandchild; one brother, Duane "Bird" Kuiper of Anchorage, AK; other relatives and friends.
Preceding him in death were his parents, Samuel and Bernice Kuiper; two brothers and three sisters.
Celebration of Life
James Robert Kuiper
Born ~ January 6, 1927
Died ~ March 11, 2018
Age ~ 91 years 2 months 5 day
Funeral Service
Thursday, March 15, 2018
1:00 p.m.
Sanborn Funeral Home Chapel
Sanborn, Iowa
Clergy ~ Pastor Randy Cormeny
Musical Tribute
Carrie Underwood and Vince Gill - CD
"Go Rest High On That Mountain"
Songs of Praise
"How Great Thou Art"
"Amazing Grace"
Honorary Pallbearer
Michael Kuiper
Pallbearers
Deric DeJager Bobby Kuiper Bryan Hayward
Chet Hofmann Zane Schug Brayden Kuiper
Military Graveside Rites
Sanborn American Legion
Earl T. Conaway Post #318
Interment
Roseland Cemetery
Sanborn, Iowa