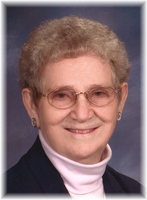 Luella Jean Frick
Luella Jean (Nagel) Frick, the daughter of Pete and Esther (Kraft) Nagel, was born September 26, 1931 in O'Brien County, Omega Township. She spent her childhood years in the Gaza, Primghar and Hartley, Iowa areas. Luella attended grades one through eight at the local country school, during which time she spent one and one half years at Oakdale Sanitarium for treatment of tuberculosis. She graduated from Hartley High School with the class of 1950.
On May 25, 1951, Luella was united in marriage to Donald Frick at Hartley, Iowa. She spent the rest of her life in Hartley where she raised her three daughters and one son. She was a member of Trinity United Church of Christ in Hartley and was a member of the Dorcas women's group. Luella enjoyed playing cards, going for coffee with her friends, and doing crafts. She also belonged to a bowling league for several years, loved to dance, and went on a number of bus trips. She enjoyed wintering in Texas for 14 years, eight of which were with her husband, Donald. She was a very loving and happy mother, grandmother and great-grandmother, and treasured spending time with all of them. Luella enjoyed her life, and always had a smile for everyone.
On February 17, 2018, Luella passed away at her home in Hartley, having reached the age of 86. She was preceded in death by her parents; her husband, Donald; one brother; three brothers-in-law; and two nieces.
Left to cherish her memory are her children: Merna Rae (Greg) Danko, Donna (Richard) Hansen, Phyllis (Alan) Patten, and Donnie (Leslie) Frick; six grandchildren: Jesse (Brenna) Danko, Cody (and fiancé Ellen) Danko, Tara (Alan) Papendorf, Brooke (Nate) Wallinga, Scott (Leslie) Patten, and Cassandra Frick; three great-granddaughters: Kinsley Papendorf, Mackenzie Danko and Claire Wallinga; four sisters: Ruth Meehlhause, Dalorus Gaudian, Naoma Schoof, and Lois (Larry) Klatt; sister-in-law, Nancy Nagel; brother-in-law, Roger (Karen) Frick; many nieces and nephews; other relatives and dear friends.
Celebration of Life
Luella Jean Frick
Born ~ September 26, 1931
Died ~ February 17, 2018
Age ~ 86 years 4 months 21 days
Funeral Service
Thursday, February 22, 2018 ~ 10:30 a.m.
Trinity United Church of Christ
Hartley, Iowa
Officiating ~ Pastor Stuart Vander Vegte
Organist ~ Julie Back
Special Music
Pastor Stuart Vander Vegte
"The Lord's Prayer"
Songs of Praise
Processional ~ "On Eagle's Wings"
Recessional ~ "Amazing Grace"
Pallbearers
Jesse Danko Cody Danko Tara Papendorf
Brooke Wallinga Scott Patten Cassandra Frick
Ushers
Mert Feddersen ~ VerDon Schmidt
Burial
Pleasant View Cemetery
Hartley, Iowa