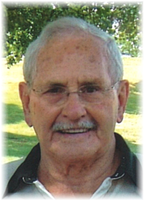 William Edward "Bill" O'Brien
William "Bill" Edward O'Brien was born at Ayrshire, Iowa on July 21, 1927 to James and Erna (Brechler) O'Brien. He grew up in the Ayrshire area, and attended school in Ayrshire and Emmetsburg, Iowa.
At the age of 16, Bill entered the U.S. Merchant Marines and served as a utility man from May, 1944 to October, 1944. He served aboard the SS Argentina, a converted passenger ship, transporting army troops to France and England shortly after D-Day. At the age of 17, he entered active service with the United States Navy in October, 1944. He served as a Pharmacist's Mate at the U.S. Navy Hospital in Shoemaker, California, and on the USSPC782, a sub chaser out of Charleston, South Carolina. Bill was honorably discharged in July, 1946. He was awarded a Victory Medal and American Area Campaign Medal. Following his discharge, Bill finished high school, graduating from Emmetsburg Catholic High School in 1947.
On September 1, 1948, Bill was united in marriage to Donalee LeClair at Royal, Iowa. They farmed in the Royal and Hartley, Iowa areas for many years. He then worked for the State of Iowa until his retirement. He lived in the communities of Le Mars and Sioux City, Iowa until 2013, when he relocated to Community Memorial Assisted Living in Hartley. Bill enjoyed being with family, reading, watching sports and television. In 2016, he moved to Community Memorial Health Center where he passed away on December 3, 2017.
Survivors include his nine children: Kathleen O'Brien and her husband, Bruce Mosby of Phoenix, Arizona, Christie Sauer and her husband, Larry of Ankeny, Iowa, Kelly O'Brien and his wife, Mary of Sanborn, Iowa, Tim O'Brien and his wife, Julie of Aurora, Colorado, Mary Fairchild and her husband, Mark of Greenville, Iowa, John O'Brien and his wife, Wendy of Johnstown, Colorado, Tom O'Brien of Sanborn, Iowa, Joe O'Brien and his wife, Donna of Waterloo, Iowa, Theresa O'Brien of Centennial, Colorado; 15 grandchildren; and several great-grandchildren; and a special friend, Lorraine Stodden of Sioux City, Iowa; his sister, Eileen Clark of Hartley, Iowa; sister-in-law, Shirley O'Brien of Milbank, South Dakota; and many nieces and nephews.
Preceding him in death were his parents; brother, James O'Brien; brother and sister-in-law, Robert and Leola O'Brien; sister and brother-in-law, Florence and Ronald Maurstad; and brother-in-law, Merle Clark.
Celebration of Life
William E. "Bill" O'Brien
Born ~ July 21, 1927
Died ~ December 3, 2017
Age ~ 90 years 4 months 12 days
Memorial Service
Saturday, December 9, 2017 ~ 10:30 a.m.
St. Joseph's Catholic Church
Hartley, Iowa
Clergy ~ Fr. Tim Hogan
Organist ~ Donna McCarty
Cantor ~ Nancy Williams
Songs of Praise
Processional ~ "How Great Thou Art" #425
"Eternal Father" #626
"I Am The Bread Of Life" #364
"Song Of Farewell" #828
Recessional ~ "Irish Blessing"
Honorary Pallbearers
(Bill's grandchildren)
Matthew Sauer Jessica Miller Sean O'Brien Sheila O'Leary
Tyler O'Brien Dustin Fairchild Justine Rinehart
Daniel O'Brien Andrew O'Brien Amanda Quintana
Justin O'Brien Mac O'Brien Paige Lutjen
Katie King Kevin King
Ushers
Ron Williams ~ Mike Ahlers
Military Graveside Rites
Sanborn American Legion
Earl T. Conaway Post #318
Interment
St. Cecilia's Catholic Cemetery
Sanborn, Iowa