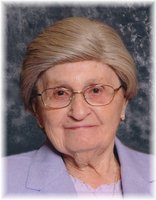 Lillian Mae Klinker
Lillian Mae Klinker, daughter of William and Amanda (Jansen) Trojahn, was born April 8, 1919, near Sutherland, Iowa in Grant Township, O'Brien County. She later moved with her family to a farm near Hartley, Iowa and spent her growing-up years there along with her sister, Esther and her brother, Ray. She received her education at Omega Township Country School near Hartley.
On December 11, 1938, Lillian was united in marriage to Lawrence Klinker. They began their life together on a farm, eventually moving to the town of Hartley in 1943. She became a member of Trinity United Church of Christ where she remained for over 70 years. Lillian was employed by the Hartley Community School system for 26 years, using her cooking talents in their food service department. She retired in 1987.
In April of 2014, Lillian became a resident of Community Memorial Health Center in Hartley and passed away there on Monday, March 19, 2018 at the age of 98 years.
Left to cherish her memory are her children, Marlys Harris of Olathe, Kansas, Terry and his wife, Sue Klinker of Atlanta, Georgia; five grandchildren: Brenda Jones, Michelle Sagartz, Brad Harris, Jeff and his wife, Monica Klinker, and Abbie Klinker; eleven great-grandchildren; nine great-great-grandchildren; many nieces and nephews; other relatives and friends.
Preceding her in death were her parents, William and Amanda Trojahn; her husband, Lawrence in 1995; son-in-law, Arnold Harris; her son, Dennis Klinker; granddaughter, Kimberly Ann Harris; great-great-grandson, AJ Johnson; her sister and husband, Esther and Marvin Rost; her brother and wife, Ray and Lois Trojahn.
Celebration of Life
Lillian Mae Klinker
Born ~ April 8, 1919
Died ~ March 19, 2018
Age ~ 98 years 11 months 11 days
Funeral Service
Saturday, March 24, 2018 ~ 10:00 a.m.
Trinity United Church of Christ
Hartley, Iowa
Officiating ~ Rev. Milt Sikkema
Organist ~ Julie Back
Special Music
Gary Klett
"Finally Home"
Songs of Praise
Processional ~ "Amazing Grace"
"Beautiful Savior"
Recessional ~ "Rock Of Ages"
Pallbearers
Brad Harris Jeff Klinker Matt Sagartz
Larry Berg Steve Jones Stan Meyer
Ushers
Lynwood Mohni ~ Klinker Great-grandchildren
Burial
Pleasant View Cemetery
Hartley, Iowa