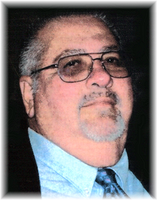 Bruce Allen Worth
Bruce Allen Worth, son of George B. and Herta A. (Schiefbien) Worth, was born December 9, 1944 in Des Moines, Iowa. He spent his youth, and received his education at Mora, Minnesota, graduating from Mora High School in 1962.
Following graduation, Bruce furthered his education at the University of Minnesota, obtaining his Associate of Arts Degree. Bruce enlisted in the United States Navy in 1963 and served his country during the Vietnam Conflict; from 1966 until he was honorably discharged in 1971. His time in the military earned him three medals, and a Navy Unit Commendation - his last assignment being aboard the U.S.S. Forrest Royal.
On August 25, 1979, Bruce was united in marriage to Elizabeth "Beth" Korenberg at White Bear Lake, Minnesota. Bruce was an owner-operator of a long-distance trucking business. He put in long hours and many miles until health issues forced his retirement. He and Beth moved to Hartley, Iowa in 1995 where Bruce became a member of the Hartley American Legion, Arthur W. Kirchhoff Post #288. He also belonged to the American Legion Riders Post #1 out of Spencer, Iowa, and the U.S. Navy "Tin Can" Sailors. He thoroughly enjoyed being outdoors – especially if he could hunt or fish.
Bruce passed from this life on Tuesday, March 6, 2018 at the age of 73. He will be lovingly remembered by his wife, Bette of Hartley, Iowa; children: Paul Rensted of Tracy's Landing, Maryland, and Susan Rensted of Annapolis, Maryland; brothers-in-law: Roger (Jerri) Korenberg, and John (Marci) Korenberg; sister-in-law, Renee (Roger) Crist; nieces and nephews, other relatives and friends.
Preceding him in death were his parents, George and Herta Worth; son-in-law, Roger Sherman; father and mother-in-law, John and Rena Korenberg.
Celebration of Life
Bruce Allen Worth
Born ~ December 9, 1944
Died ~ March 6, 2018
Age ~ 73 years 2 months 25 days
Graveside Service
Saturday, June 2, 2018
11:00 a.m.
Pleasant View Cemetery
Hartley, Iowa
Officiating ~ Pastor Chris Nitzel
Military Graveside Rites
Arthur W. Kirchhoff Post #288
Hartley, Iowa