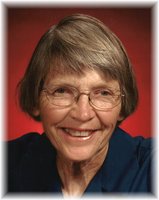 Virginia Anne Snip
Virginia Anne Snip, the daughter of Norman Vaughn and Virginia Irona (Coates) Humphrey was born July 12, 1932 in Blackwell, OK. She spent her youth in the Blackwell area along with her three sisters and one brother. She attended school in Blackwell, graduating from high school in 1950.
Following graduation, Virginia continued her education with two years at Northern Oklahoma Junior College in Tonkawa, OK. She then attended the University of Oklahoma School of Nursing in Oklahoma City for three years, graduating as a Registered Nurse. One more year was spent at Whitworth College in Spokane, WA where she earned her Bachelor of Science degree in Nursing Education.
While attending the School of Nursing, Virginia spent two summers working on Indian reservations. The time spent there inspired her to do missionary work. After receiving biblical training in New York City for one year, she applied to the Presbyterian Mission Board who suggested she get some teaching experience. So, she taught Maternal & Child Health for two years in Rapid City, SD, an affiliation of the University of South Dakota at Vermillion.
Finally in 1960, Virginia became a special term missionary in Tanta, the 3rd largest city in Egypt. She taught one-third of the nursing curriculum as well as working in the hospital. Toward the end of her third year there, Virginia contracted hepatitis which kept her bedridden for five months. She returned home in early summer. Once recovered, she spent the next three years in Fargo, ND as an OB supervisor at the Deaconess Hospital. She then moved to Fridley, MN doing in-service education. While there, she applied to the Agency for International Development, State Dept. After being accepted, she spent three months in Washington, DC learning Vietnamese. She was then sent to VinhBinh Province for 1 1/2 years, acting as counterpart to the Director of Nurses in the Vietnamese Provincial Hospital. Life there was not exactly run-of-the-mill hospital work. The Viet Cong made their medical tasks nearly impossible, and they found themselves in danger on several different occasions. Virginia (and others) had to hide, escape in jeeps while being shot at, and be evacuated via helicopter to regional headquarters. At MyTho, she worked triage for 36 hours straight - no sleeping or eating - dealing with over 900 patients. After six more months at VinhBinh Province, Virginia came back to the U.S. and obtained her Masters in Rehabilitation Counseling from the University of Iowa. She returned to Vietnam for 20 months as advisor to the chief nurse at the hospital at Banmethout. She was asked by the U.S Agency for International Development to monitor the Vietnamese nurses training program conducted at Thailand, due to her medical knowledge as well as her superior ability to speak the language.
After serving overseas, Virginia finally returned to the United States. She spent some time with a friend in Ft. Dodge, IA where she met her future husband, Winard Snip. They were married March 30, 1973, eventually moving to Archer, IA where they enjoyed farming and gardening together. Virginia also worked nights at the Primghar Hospital for several years. In April 1980, they built a new home in Archer where they were living when Win passed away in 1996. Virginia continued to enjoy gardening, and began selling her organic produce at local Farmer's Markets in 1982, always with the goal of improving nutrition and general health.
Virginia lived a full and productive life - always giving more than she took out of it. She passed away on Thursday, March 1, 2018 at the age of 85. Preceding her in death were her parents, her brother, Bill Humphrey, and her husband, Win.
Left to cherish her memory are her sisters: Norma Kindred of Eagle River, AK, Janice Smith of Watonga, OK, Mary Rader of Wichita, KS, sister-in-law, Janet Humphrey of Springdale, AR; many nieces and nephews, especially Nelva Davis, who remained a faithful caregiver; other relatives and a host of friends and acquaintances.
Celebration of Life
Virginia Anne Snip
Born ~ July 12, 1932 - Died ~ March 1, 2018
Age ~ 85 years 7 months 19 days
Funeral Service
March 10, 2018 ~ 2:00 p.m.
Archer Reformed Church, Archer, Iowa
Clergy ~ Rev. Matt Lee
Pianist ~ Michelle De Kok
Congregational Singing
"In The Garden" #425
"Amazing Grace" #202
"How Great Thou Art" #4
"Tis So Sweet To Trust In Jesus" #350
Pallbearers
Kent Hurtig John DeBoer Torray Wilson
Wayne Van Roekel Paul Snip Scott Jones
Ushers
Tim DeBoer ~ Dan Frangenberg
Interment
East Lawn Cemetery ~ Sheldon, Iowa