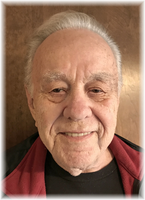 Calvin Ross "Cal" Benz
Calvin Ross Benz, 79, passed away December 24, 2017 at his home in Raytown, MO. Born on October 14, 1938 to Bill and Hilda (Klever) Benz, Cal spent his early years in Melvin, Iowa, working on the family farm and playing sports in high school.
He enlisted in the U. S. Army in 1956, serving for nearly two years in the Office of the Chief of Staff at the Pentagon in Washington, D.C. Cal then attended Morningside College for two years before transferring to the University of Iowa, where he received a degree in Business Administration.
He worked for a short period at Collins Radio in Cedar Rapids, IA, and then moved to Kansas City, MO where he worked at Wilcox Electric, and later at Hallmark Cards for 15 years. Cal was actively involved in local Jackson County politics during the mid 1960's to early 1980's, and later started a residential real estate business that he managed following his retirement from Hallmark Cards.
Cal was an avid fisherman and a charter member of the Raytown Bass Club. He was also an ardent sports fan and enjoyed following Royals baseball and Big Ten Football/Basketball.
Cal was preceded in death by his younger brother, Randy Benz, in 2001. He is survived by his son, Brett Benz and his former wife, Linda (Obert) Benz of Kansas City, as well as sister-in-law, Mary Benz of Arnolds Park, IA and two nephews: Scott Benz of Addison, IL and Mike Benz of Elgin, IL.
A memorial service is planned for a later date. In lieu of flowers, the family suggests memorial contributions may be made to the Saint Luke's Foundation at www.saintlukesgiving.org or the University of Iowa at www.donate.givetoiowa.org.