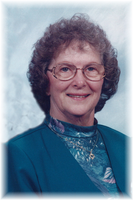 Bonnie Jean Vollink
Bonnie Jean Jansen (Chrisman) Vollink, the daughter of Gerrit and Gertrude (Den Hartog) Jansen was born March 14, 1933 in Primghar, Iowa.
She lived her youth in Primghar and graduated from the Primghar High School in May 1951.
On January 2, 1953 she was united in marriage to Glenn (Jack) Chrisman Jr. at the Methodist Church in Primghar, Iowa. They had one son, Glenn Irving Chrisman III.
Following their marriage they lived for a short time in Primghar. They also lived in Sanborn, Sioux City, Des Moines and then returned to Sanborn upon her retirement in 1988.
Bonnie worked for Northwestern Bell in Sheldon for 18 years and in Sioux City for two years as a telephone operator. They then moved to Des Moines where she worked for AT&T for six years as repair clerk for the business phones in several states. She retired March 15, 1988 after 26 years with the Bell system. After returning to Sanborn she was librarian in the adult section of the public library for six and one-half years and also served as secretary for Pastor Keith Pals at the United Methodist Church.
Jack passed away December 22, 1991 at Sanborn, Iowa.
On March 1, 1996 she was united in marriage to Gilbert Vollink at the United Methodist Church in Sanborn, Iowa, and following their marriage they lived in Archer, Iowa. She became a member of the Archer Reformed Church where she belonged to Charity Circle, and she particularly enjoyed being part of the church centennial committee in 2000.
Gilbert passed away June 12, 2013.
She was a member of the American Legion Auxiliary since 1945 and held the offices of secretary, vice president and president. She taught Sunday school and was the junior choir director in the old Methodist Church in Sanborn. She also sang in the adult choir. Bonnie enjoyed singing, visiting and genealogy. She also volunteered at "Bonnie and Friends" at Prairie View Nursing Home in Sanborn from 1988 to 2004. She was known as the "Hug Lady". She passed away on December 20, 2017.
She is survived by step children Karen (Phil) Zoet of Hull, Iowa and Galen (Patty) Vollink of Sanborn, Iowa; step daughter-in-law, Cheryl Vollink; step son-in-law Claude (Nancy) Struve and her son Glenn (Nancy) Chrisman III all of Sheldon, Iowa; two grandsons, 12 step grandchildren, four great grandchildren and 18 step great grandchildren.
She was preceded in death by her parents, husbands Jack and Gilbert; sister Genevieve Bobzien; step children Diane Struve and Ronald Vollink and step granddaughter Monica Zoet.
Celebration of Life
Bonnie Jean Vollink
Born ~ March 14, 1933
Died ~ December 20, 2017
Age ~ 84 years 9 months 6 days
Funeral Service
December 23, 2017 11:00 a.m.
Archer Reformed Church
Archer, Iowa
Clergy ~ Rev. Matt Lee
Pianist ~ Michelle De Kok
Congregational Singing
Processional ~ "I'll Fly Away"
"Jesus Is Coming Again"
"On Eagle's Wings"
Recessional ~"When We All Get To Heaven"
Pallbearers
Brian Vollink Craig Vollink Ryan Sage
Bob Reisch Mike Chrisman Gerry Chrisman
Ushers
Dave De Kok
Interment
Roseland Cemetery
Sanborn, Iowa