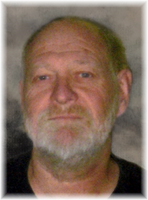 Dennis Lee "Denny" Henrich
Dennis Lee Henrich, was born October 24, 1954 at Sioux City, Iowa, the son of Leo and Luella (Hansen) Henrich of Archer, Iowa. Their family was made complete when a daughter, Ann, was born.
Denny spent his youth in the Archer area, helping his Dad around the farm and learning all about fast cars, motorcycles and trucks; a passion he would have throughout his life. He graduated from Spalding Catholic High School in 1972.
Following graduation, Denny worked in the parts department at the John Deere Implement Company in Lake Park, Iowa. He then began driving truck, taking loads all over the country. He had the knack of being able to drive somewhere once, and then, with no trouble, get back there again...his "built-in GPS". After Leo retired from farming, Denny took over the operation at the home place.
Being mechanically inclined, Denny always enjoyed tinkering with anything that had a motor. He could spend hours working on old cars, riding lawn mowers, or Harley-Davidson motorcycles; collecting all the missing parts, and eventually getting them running again. He had a real talent for anything "under the hood".
No one was ever a stranger to Denny...or, not for long, anyway. He was a real people-person and could pick up a conversation with just about anyone. He enjoyed having coffee with the guys at Mark Merley's shop, catching up on the local happenings or swapping information. The time there was special to him, as were the friends that gathered there.
Every day was made a little brighter for him by man's best friend - his dogs. They became his companions and driving partners. One of them, "Spike", even had his own bar stool at a place Denny frequently stopped by in Sioux City!
Not everyone is fortunate enough to have their own "guardian angel" here on earth; Dan Noteboom was Denny's. He has been a true friend and a good neighbor; being there to listen and offer medical support. All of Denny's friends were important to him, and each one held a special place in his heart.
With only two children in the family, Denny and his sister, Ann shared a close bond. They would often talk on the phone or take road trips together. They depended on one another and equally enjoyed their brother-sister relationship.
Denny passed from this life on Friday, December 8, 2017 at Sioux City, Iowa at the age of 63 years. Left to remember good times shared are his sister, Ann Henrich Strait of Sheldon, Iowa; his niece, Rebecca Mersch, and her four children: Grace, Noah, John, and Abraham; other relatives and a host of friends and long-time acquaintances.
While Denny will be missed, there is comfort in knowing he is at peace. The memories he leaves behind for all of us now become treasures.
"Fly Like An Eagle, Denny!"
Celebration of Life
Dennis Lee Henrich
Born ~ October 24, 1954
Died ~ December 8, 2017
Age ~ 63 years 1 month 14 days
Visitation and Fellowship
Friday, December 15, 2017
4:00 p.m. ~ 7:00 p.m.
Sanborn Funeral Home Chapel
Sanborn, Iowa
Organist ~ Gayle Vander Woude
Vocalist ~ Rod Holtkamp
"On Eagle's Wings"
"A Wonderful World"
Honorary Pallbearers
Dan and Dar Noteboom
Gene and Laura Ney
Dan Prescott
Mark Merley
Steve Merley
Brent Merley
Tim Miller