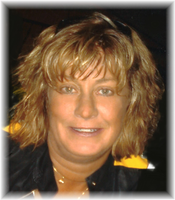 Sandra Kay Brazle
Sandra Kay Brazle, daughter of Harry Brazle, Jr. and Corrine Mae (Miller) Loder, was born March 3, 1959 at Hartley, Iowa. She spent most of her life in the Hartley area where she received her education, graduating from Hartley High School.
Following high school, Sandra moved to Florida and was employed as a travel agent. While living there, she became the mother of a son, Lucas Wayne Shurle, born August 21, 1989.
Eventually, she relocated back to Iowa, and was employed for many years in a secretarial capacity for Peters Construction out of Hartley. She also tended bar at The Stoplight Lounge and the American Legion Club both in Hartley. Recently, she had worked for 3B Electric in Hartley.
Sandra was a member of Hartley Chamber of Commerce. She enjoyed spending time with family and friends; occasionally taking a camping trip or going fishing.
She passed from this life on Saturday, December 9, 2017 at the age of 58 years. Preceding her in death were her parents, Harry, Jr. and Corrine; her grandparents; and one brother, Rex.
Left to cherish her memory is her son, Lucas of Hartley, Iowa; her granddaughter, Delaney of Orange City, Iowa; her grandson, Deegan of Hartley, Iowa; one brother, Gary and Mary Jane (Woodman) Brazle and their son, Benjamin of Urbandale, Iowa; an aunt, Joann Brazle of Rockford, Illinois; many cousins, and a host of friends.
Celebration of Life
Sandra Kay Brazle
Born ~ March 3, 1959
Died ~ December 9, 2017
Age ~ 58 years 9 months 6 days
Memorial Service
Saturday, December 23, 2017
4:00 p.m.
Hartley Funeral Home Chapel
Hartley, Iowa
Clergy ~ Pastor Chris Nitzel
Music
Processional ~ "Amazing Grace" CD
"I Can Only Imagine" CD
Recessional ~ "How Great Thou Art" CD
Interment
A private family burial service
will take place at a later date.