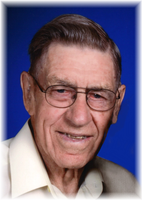 Blaine Carlis Hirt
Memorial Tribute
Blaine Carlis Hirt, son of Walter and Anna (Goering) Hirt, was born January 5, 1930 at Hartley, Iowa. He attended school at Hartley, graduating with the class of 1948.
On April 29, 1951, Blaine was united in marriage to Dorothy Fender at the Little Brown Church in Nashua, Iowa. The newlyweds made their first home in a trailer situated on Blaine's parents' farmstead outside of Hartley. Their intent to begin farming together was interrupted when Blaine was inducted into the United States Army five short months later on September 25th.
Dorothy found housing at Lawton, Oklahoma while Blaine was in Basic Training at Fort Sill. He served with the Second Division, 15th Field Artillery division at Korea from 1952 until his honorable discharge at Camp Carson, Colorado in June of 1953. With the aid of the Red Cross, he was able to be home in time to attend his grandmother's funeral. Blaine earned the Korean Service Medal/3 Bronze Stars, the United Nations Service Medal, a Commendation Ribbon, and the Purple Heart for his tour of duty.
With his service obligation behind him, Blaine and Dorothy returned to Iowa and resumed their life on the farm near Hartley. They were blessed with three sons: Bradley, Brian, and Brady. Along with row crop farming, Blaine took pleasure showing his swine at the local fair. When he could find free time, he also enjoyed fishing, hunting and, in later years, golf.
When Blaine retired, he and Dorothy relocated to Arnolds Park, Iowa to take life a little easier. Not one to sit idle, Blaine volunteered his time driving the "VA Van" to Sioux Falls, South Dakota for seven years. He also participated in an Alzheimer's Support Group at Spencer, Iowa, and was a member of First Lutheran Church at Milford, Iowa.
Blaine passed from this life on Friday, December 8, 2017, reaching the age of 87. Preceding him in death were his parents, Walter and Anna Hirt; his son, Bradley Hirt; one brother, Dale Hirt; and one sister, Ruth Ann Wehler.
Thankful for having shared Blaine's life are his wife of 66 years, Dorothy of Arnolds Park; his sons: Brian and Teresa Hirt of Glenwood, Iowa, and Brady Hirt of Arnolds Park; three grandchildren: Jordan (Chelsey) Hirt of Council Bluffs, Iowa, Dylan Hirt and Ashley Hirt, both of Glenwood; sister-in-law, Jane Hirt of Carmel, California; his brother, Cloy (Betty) Hirt of Spirit Lake, Iowa; his sister, Konnie (Roger) Bojens of Milford, Iowa; other relatives and friends.
Celebration of Life
Blaine C. Hirt
Born ~ January 5, 1930
Died ~ December 8, 2017
Age ~ 87 years 11 months 3 days
Funeral Service
Wednesday, December 13, 2017
1:30 p.m.
Hartley Funeral Home Chapel
Hartley, Iowa
Clergy ~ Pastor Perry Aalgaard
Songs Of Praise
"Amazing Grace"
"Grandpa" The Judds
"I Can Only Imagine" Mercy Me
"How Great Thou Art"
Pallbearers
Brian Hirt Brady Hirt Jordan Hirt Dylan Hirt
Jim Norton Robert Finch Ashley Hirt Chelsey Hirt
Military Graveside Rites
Hartley American Legion
Arthur W. Kirchhoff Post #288
Interment
Pleasant View Cemetery
Hartley, Iowa