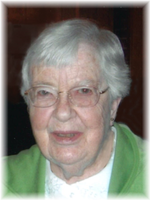 Margery Edna Stratman
Margery Edna (Huston) Stratman was born on April 24, 1916 to Phil and Edna (Elliott) Huston at their farm home 4 ½ miles northwest of Hartley, Iowa. She grew up on this farm along with her brother, Will, and sisters, Mary, Reva, and Pearl. Margery attended rural school at Lincoln No. 6 through the 8th grade; graduating from Hartley High School in 1934. Following graduation, she taught school for a short time, and then enrolled at the Iowa Teacher's College in Cedar Falls, Iowa. After earning her two-year teaching degree, Margery continued with her education by taking classes following her college instruction. Her teaching career began with eight years in country school systems, six years at Armstrong, Iowa, and 16 years at Terril and Lake Center, Iowa.
On October 12, 1952, Margery was united in marriage to Claude Stratman at Hartley, Iowa. They began their married life together on a farm seven miles north of Terril where Claude was engaged in agriculture. Along with being a full-time educator, Margery taught Sunday School and Bible School at the United Methodist Church in Terril. She also participated in the Methodist Women's Circle. As a farm wife and school teacher, Margery was a very "early riser". Years later, now both retired, they left the farm, and in 1977, moved to Honolulu, Hawaii where they enjoyed many years of sunshine.
Claude passed away in 1990. Margery continued to reside in Hawaii, having made many good friends in Honolulu. She took pleasure being outdoors on long walks, or meeting friends for an early-morning coffee gathering. Visits from family members throughout the year was always her greatest enjoyment; sharing their company in the balmy, Hawaiian surroundings.
Margery moved back to Hartley in 2003, and began volunteering at HMS schools. She was also a member of the local American Legion Auxiliary. On Friday, December 1, 2017, she passed from this life at Community Memorial Health Center in Hartley, having reached the age of 101 years. She was preceded in death by her parents, Phil and Edna Huston; her husband, Claude Stratman; one brother, Will Huston; twin sister, Mary Byers, and sister, Reva Steinbeck.
Left to cherish her memory are her sister, Pearl Lyman; many nieces and nephews; and very special neighbors and friends.

Celebration of Life
Margery E. Stratman
Born ~ April 24, 1916
Died ~ December 1, 2017
Age ~ 101 years 7 months 7 days
MEMORIAL SERVICE
Tuesday, December 5, 2017
11:00 a.m.
United Methodist Church
Hartley, Iowa
Clergy ~ Rev. Emmanuel Naweji
Organist ~ Deb Bleeker
Congregational Singing
Processional ~ "How Great Thou Art" #77
"In The Garden" #314
Recessional ~ "Amazing Grace" #378
Honorary Pallbearers
Rodney Jenkins Ron Sterk John Lyman Bruce Lyman
Vince Weber Lon Vogt Lynn Horstmann
Interment
Pleasant View Cemetery
Hartley, Iowa