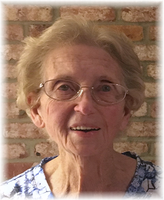 Letty Ann Daggett
Letty Ann Daggett was born July 12, 1929 to Emil and Lettie (Hoover) Dietz in Hartley, Iowa. She spent her youth in the Hartley area and attended school there, graduating with the class of 1946.
On December 6, 1948, Letty was united in marriage to Harold Frank Daggett at Elk Point, South Dakota. They were blessed with six children: Bruce, Charlotte, Wayne, Connie, Ronnie, and Bonnie. Their married life was spent farming in the Melvin, Iowa area where they also raised their family. Letty's life revolved around caring for her growing family, attending their school functions, or helping Harold outside when she could. No one ever went hungry with Letty in the kitchen. Whatever came out of the oven was always a crowd-pleaser...especially her homemade pies!
Harold passed away in 1999; Letty eventually left the farm near Melvin, and moved to Sanborn, Iowa. She enjoyed her years living in town and rediscovered her love of making quilts. Many hours were spent piecing and sewing these treasures for her family. Letty became a resident of Prairie View in Sanborn in October, 2016 where she passed from this life on Sunday, November 26, 2017 at the age of 88.
Preceding her in death were her husband, Harold; an infant son, Doug; her parents, Emil and Lettie Dietz; Betty Moneghan, Ray Dietz, Wayne Kirby, and Dale Kirby.
Cherishing her memory, she is survived by her children: Bruce (Meredith) Daggett of Mineral Point, Wisconsin, Charlotte (Terry) Pinneke of Omaha, Nebraska, Wayne (Pat) Daggett of Round Lake, Minnesota, Connie Daggett of Sibley, Iowa, Ronnie (Lisa) Daggett of Fort Dodge, Iowa, and Bonnie (Dan) Kolbeck of Aurora, Colorado; 16 grandchildren; 33 great-grandchildren; one great-great-grandchild; other relatives and friends.

Celebration of Life
Letty A. Daggett
Born ~ July 12, 1929
Died ~ November 26, 2017
Age ~ 88 years 4 months 14 days
FUNERAL SERVICE
Wednesday, November 29, 2017
10:00 a.m.
United Methodist Church
Melvin, Iowa
Clergy
Rev. Marvin Lindley
Organist
Pat Wachtel
Congregational Singing
Processional ~ "In The Garden"
"Precious Lord, Take My Hand"
"How Great Thou Art"
Recessional ~ "Amazing Grace"
Pallbearers
Cheyne Daggett Mike Daggett Carrie Mills Sherry Whitcomb
Jeri Dunkin TJ Pinneke Mary Goodrick Gary Pinneke
Mic Daggett Tim Daggett Josh Daggett Joey Daggett
Kayla Daggett Sarah Harrison RJ Daggett Alex Kolbeck
Usher
Harvey Juber
Interment
Roseland Cemetery
Sanborn, Iowa