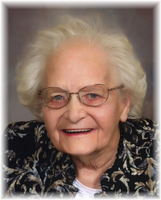 Gertrude "Gert" Hofman
Gertrude "Gert" (Alons) Hofman, passed away peacefully at the Prairie View Campus in Sanborn, Iowa on Monday, September 11, 2017.
Gert was born to the late Ben and Maggie (Holtrop) Alons on December 8, 1925 on a farm in rural Hospers, Iowa. She later moved with her family to a farm northeast of Sheldon, Iowa and resided there for 10 years. At the age of 12, the family relocated to a farm northwest of Sanborn where Gert also attended country school through the seventh grade. In 1938, she graduated from the Sanborn Christian School with an 8th grade diploma. During her teen years, Gert worked for many local families, caring for new mothers and their babies. She also worked at the Red Owl grocery store in Sheldon to help her family out after a hailstorm destroyed a good share of the field crops.
On April 9, 1945, Gert was united in marriage to Maynard Hofman at the Christian Reformed Church in Sheldon. Shortly after, Maynard was called upon to serve his country with the United States Army, spending some time overseas in the Philippines. While he was away, Gert lived in California, working at a fruit preserve factory and taking on domestic cleaning jobs. Eventually, she moved back to Iowa, assisting families with childcare.
When Maynard returned from active duty in 1946, he and Gert made their home in a small house in Sanborn for a short while. In the fall of that year, they moved to a farm southeast of Sanborn and began working the land together. They lived at that address until January, 1963 when the family relocated to the farmstead northwest of Sanborn where Gert had lived as a young girl. She lived on this farm place until April 13, 2016. Following a diagnosis of cancer, Gert moved to Prairie View in Sanborn the same year.
She was a member of Cornerstone United Reformed Church, participating in the Ladies Bible Study. She also served on the Sanborn Christian School Auxiliary for many years.
Gert will be remembered by her five children: Karen and Woody Ross of Canton, South Dakota, Brad and Marlys (Grooters) Hofman of Hull, Iowa, Marlyn and Alvina (Van Maanen) Hofman of Sanborn, Iowa, Gary and Carol (Vander Werff) Hofman of Sioux Falls, South Dakota, Lynda and Rollie Vander Eide of Fulton, Illinois; 17 grandchildren; 32 great-grandchildren; one sister, Marie Vander Griend; brothers: Dan and Matilda Alons, Leroy and Donna Alons, Merl and Rosa Alons, Roger and Jan Alons; many nieces and nephews; other relatives and friends.
Those preceding her in death are her husband of 63 years, Maynard; her parents, Ben and Maggie Alons; her brother and sister-in-law, John and Marlene Alons; nephew, Jeff Alons; great-grandson, Dawson Gulker; Maynard's family members: Abe and Katrina Hofman, Dick and Pearl Hofman, Ed and Agnes Uittenbogaard, Bill and Elsie Elgersma, Leslie Hofman, Harry and Tillie Bosma, and John and Arlene Krikke.

Celebration of Life
Gertrude "Gert" Hofman
Born ~ December 8, 1925
Died ~ September 11, 2017
Age ~ 91 years 9 months 3 days
MEMORIAL SERVICE
Thursday, September 14, 2017 ~ 11:00 a.m.
Cornerstone United Reformed Church
Sanborn, Iowa

Clergy ~ Rev. Dan Donovan
Pastor Ken Carlson
Organist ~ Kay Wesseling

Musical Tributes
Lori Walstra
"When Peace Like A River"
Pastor Ken Carlson
"Pearly Gates Will Open"
Makenna Kooi and Emma Gulker
"Give Me Jesus"

Congregational Singing
Processional ~ "Trust And Obey" #27
Recessional ~ "My Jesus, I Love Thee" #440

Pallbearers
Patrick Ross Mark Ross Curt Hofman Scott Ross
Todd Hofman Jeff Hofman Evan Hofman

Honorary Pallbearers
Bob and Carol Henning family

Ushers
Phil Louters ~ Arlen Hofman ~ Gerald Alons ~ Mike Alons

Interment
Roseland Cemetery
Sanborn, Iowa