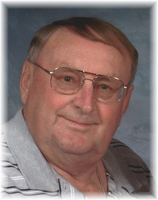 Donald Dale "Don" Nelson
Donald Dale Nelson, Jr., son of Donald D. and Frances Marie (Kammerer) Nelson, was born May 1, 1944 in Primghar, Iowa. He spent his youth in the Sutherland, Iowa area and attended school there, graduating from Sutherland High School in 1962.
On August 23, 1964, Don was united in marriage to Sandra Kay Groen at Hartley, Iowa. The couple made their home in Hartley where their two sons, Michael and Bryan, were born.
The family moved to Melvin, Iowa in 1973, as Don was employed with Jordon Implement as Parts Manager; a position he held and enjoyed for 25 years. While living in Melvin, Don gave back to the community he lived in by serving on the ambulance team for 15 years, as a fireman for 30 years, and acted as a member of the town Council for several terms. He was a member of the United Methodist church. When there was time to get away from work and his volunteer commitments, Don enjoyed relaxing and camping by the water with a fishing pole in his hand. However, his greatest pleasure was always found at gatherings with family or friends.
In 2003, Don and Sandy relocated to Hartley where they were living at the time of Don's death on Tuesday, September 5, 2017. With his passing, Don is once again reunited with his parents, Don Sr. and Frances Nelson; his brother, James Nelson; his son, Michael Nelson; and his mother and father-in-law, Leo and Fay Groen.
Grateful for having shared his life are his wife of 53 years, Sandra of Hartley, Iowa; his son, Bryan and his wife, Heather Nelson also of Hartley, Iowa; four grandchildren: Paige Nelson of Aberdeen, South Dakota, Kaylee Nelson of Cedar Rapids, Iowa, Jacob Nelson and Jace Nelson both of Hartley, Iowa; three brothers: Bob and Myrna Nelson of Sioux Falls, South Dakota, Edward and Terri Nelson of Germantown, Iowa, Rick and Sandy Nelson of Sioux Rapids, Iowa; one sister, Peg and Bruce Hinkeldey of Alta, Iowa; sister-in-law, JoAnn Nelson of Goldfield, Iowa; other relatives and friends.

Celebration of Life
Donald D. Nelson, Jr.
Born ~ May 1, 1944
Died ~ September 5, 2017
Age ~ 73 years 4 months 4 days
MEMORIAL SERVICE
Saturday, September 9, 2017 ~ 2:00 p.m.
United Methodist Church
Hartley, Iowa
Clergy ~ Rev. John Mutombo
Organist ~ Deb Bleeker
Congregational Singing
Processional ~ "In The Garden" #314
"How Great Thou Art" #77
Recessional ~ "Amazing Grace" #378
Pallbearers
Jacob Nelson Bryan Nelson Bob Nelson
Bruce Hinkeldey Brad Thorn Kevin Groen
Honorary Pallbearers
Paige Nelson Kaylee Nelson Ken Groen
Alan Groen Ed Nelson Rick Nelson Jace Nelson
Ushers
Ron Sterk ~ David Christenson
Interment
Pleasant View Cemetery
Hartley, Iowa