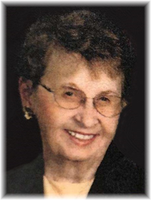 Cleo Mae Bremer
Cleo Mae Bremer, the daughter of William and Adelia (Eckhart) Guhl, was born on September 9, 1927 in Lincoln Township near Hartley, IA. She attended school in Hartley and graduated from Hartley High School in 1945. Following graduation, Cleo took various courses to become a fully licensed insurance agent in the states of Iowa and California. During her career, Cleo held non-resident insurance licenses in South Dakota, North Dakota, Minnesota and Nebraska.
On June 10, 1947, Cleo was united in marriage to Stanley Bremer at St. John's Lutheran Church in May City, IA. To this union two sons were born: Wayne and Steven. Following their marriage, the couple lived in May City, IA, Hartley, IA, Rock Rapids, IA and Fremont, CA. Cleo was a wife, mother, and homemaker, along with working as a secretary, office manager and claims manager for insurance agencies in Iowa and California. She also served as the Manager of the Northwest Iowa Underwriters Insurance Brokerage for many years.
Cleo was a member of St. Paul's Lutheran Church in Hartley where she and Stan served as youth counselors. As an avid reader, she enjoyed all types of reading, including insurance and other contracts, health and nutrition information, homemaking tips and the Bible. Her reading was a part of her life until days before her passing. Cleo also enjoyed Bible study, as well as leading the sessions. Much to her delight, she was preparing to lead a Bible study, scheduled for the day before her passing.
In years past, Cleo found pleasure in sewing, and spending time fishing at their cabin on Shore Acres. She loved animals, especially her cats, Watson and Chumlee, her dog, Fer, and her childhood horse, Billy. After her retirement, Cleo became an Elder for Northwest Iowa Aging, and a volunteer member of SHIIP (Senior Health Insurance Information Program). In her own words, at times she was "overwhelmed, but never at a loss for words".
On December 17, 2013, Cleo became a resident at the Community Memorial Health Center in Hartley where she passed away on Tuesday, August 15, 2017 at the age of 89.
During her lifetime, Cleo was diagnosed with a disease called Ehlers Danlos Syndrome, which is a connective tissue disorder. Symptoms may include joint dislocations, scoliosis, chronic pain, or early osteoarthritis, uncontrolled blood pressure and vascular disease. It was Cleo's wish to donate her body to the University of Iowa Medical Research in hopes that her body could help with medical research to find a cure for this disease.
Preceding Cleo in death were her parents; husband, Stan in 2013; son, Steven in 2016; and a sister, Thais Arlene Schmidt.
Cleo is survived by her son, Wayne of Kiowa, CO; his children: Eero (Joy) Bremer and Vanessa (Nick) Minnard; her close friend, Pam Lux; other relatives and friends.

Celebration of Life
Cleo M. Bremer
Born ~ September 9, 1927
Died ~ August 15, 2017
Age ~ 89 years 11 months 6 days

MEMORIAL SERVICE

Thursday, August 24, 2017
11:00 a.m.
St. Paul's Lutheran Church
Hartley, Iowa
Officiating ~ Pastor Duane Jalas
Organist ~ Donna Ahlers
Congregational Singing
Processional ~ "On Eagle's Wings" #772
"Abide With Me" #878
Recessional ~ "Jesus Loves Me" Insert

Burial
Pleasant View Cemetery
Hartley, Iowa
(To be held at a later date)