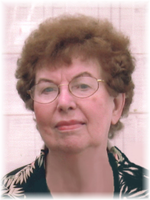 Jeanne Joan Dummett

Jeanne Joan Dummett, the only daughter of Charles and Florence (Elgersma) Andringa, was born December 15, 1920 at Sanborn, IA. Her brother, Jacob Charles "Chuck" Andringa, joined the family in January of 1933. When Jeanne was in grade school, the family moved to Orange City, IA where she completed her education, graduating from Orange City High School in 1939.
On July 26, 1941, Jeanne was united in marriage to Virgil W. Dummett at South Sioux City, NE. The couple, along with their young children, Sherry and Douglas, lived in Sanborn, IA for several years, eventually moving to Sheldon, IA where Virgil was employed as a linotype operator for The Sheldon Sun and The Sheldon Mail. Jeanne worked for Ralph Hollander for over twelve years in his "five and dime" variety store, usually working in the upstairs office of the store. She enjoyed her job very much, as well as the many friendships she formed among her co-workers. She was a member of the First Reformed Church of Sheldon.
Jeanne loved music, and she and Virgil were excellent dancers having grown up in the era of the Big Bands. With her sister-in-law, Lillian Wilson of Sanborn, she was a charter member of the Sheldon Flora Dora Girls in the fifties, a singing/dancing group that performed throughout the area. She was also an excellent bowler, participating on teams from Sheldon, Sanborn and Boone, IA. She was a devoted mother, grandmother and great-grandmother.
In 1965, she and her husband moved to Boone where Virgil worked for the Boone News Republican. Jeanne was employed at J.C. Penney Co. in Boone for over twenty years, another job she thoroughly enjoyed. She became a member of the Boone Presbyterian Church. After Virgil passed away in 1996, Jeanne continued to reside in Boone until her recent move to Grinnell, IA. She passed away at St. Francis Manor in Grinnell, IA on August 18, 2017 at the age of 96.
Jeanne is survived by her children: Sherry (Frank) Shults of Grinnell, IA and Douglas V. Dummett of Colorado Springs, CO; her grandchildren: Gregory (Wendy) Bauer of Washington, MO, and Paige Bauer of Long Beach, CA; three great-grandchildren: Brady Bauer of Austin, TX, Cassandra Bauer, a student at Drake University in Des Moines, IA, and Amanda Bauer of Washington, MO.
She was preceded in death by her parents; her husband, Virgil; and her brother, Chuck; along with many other relatives and friends whom she outlived.