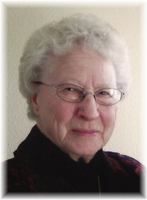 Cornelia "Cora" Prins
Cornelia "Cora" Prins was born December 26, 1933 at Hull, IA, the daughter of Cornelius "Case" and Winnie (DeJong) Visser. She spent her youth in the Sioux County, IA area.
On November 26, 1954, Cora was united in marriage to Dick Prins at the Christian Reformed Church in Rock Valley, IA. To this union, four daughters and five sons were born: Diane, Dwayne, Wilma, Roger, Janet, Ronald, Arlin, Kathryn, and Bradley. Together, they farmed for ten years in the Baltic and Colton, SD areas. In 1965, they relocated to their farm south of Hartley, IA, where they raised their family and spent the bulk of their married life. In 1993, Dick and Cora retired to the town of Hartley. In April, 2008, they moved to Sanborn, IA, spending the next several years enjoying life and watching their grandchildren grow. Cora always had something good for them to eat, whether it was on the stove, or out of the oven. She loved to bake, and she was very good at it! After Dick passed away in 2013, Cora continued living in their house in Sanborn until she too passed from this life on Sunday, August 6, 2017 at the age of 83.
Preceding her in death were her parents; her husband, Dick; granddaughter, Valerie Prins; son-in-law, Gaylen Stukey; and granddaughter-in-law, Katie Prins.
Cora will be lovingly remembered by her children and their families: Diane Stukey and Steve Titterington of Milford, IA, Dwayne and Mary Prins of Canon City, CO, Wilma and John Feeley of Fort Collins, CO, Roger and Donna Prins of Loveland, CO, Janet and Jerry Brady of Marcus, IA, Ronald and Nanette Prins of Loveland, CO, Arlin and Janet Prins of Hartley, IA, Kathryn and Calvin Van Der Zwaag of Hull, IA, Bradley Prins of Grandville, MI; 21 grandchildren, 6 great-grandchildren, 5 siblings: Fann and Wes Westra of Ireton, IA, Harriet and Glenn Kooiman of Leota, MN, Jo and Erv Goslinga of Hospers, IA, Freddy and Al Vande Kamp of Hospers, IA, and C.J. and Anita Visser of Belen, New Mexico; many nieces and nephews, other relatives and a host of good friends and neighbors.
In lieu of flowers, the family requests memorials be directed to
The Bible League or The Zuni Christian School

Celebration of Life
Cornelia "Cora" Prins
Born ~ December 26, 1933
Died ~ August 6, 2017
Age ~ 83 years 7 months 11 days

MEMORIAL SERVICE
Friday, August 11, 2017 ~ 11:00 a.m.
Christian Reformed Church
Sanborn, Iowa

Clergy ~ Rev. LeRoy Christoffels
Accompanist ~ Jennifer Prins

Musical Tribute
FOUR FOR HIM
Aaron Alons John Schreurs Nate Schreur Andy Prins
"Abide With Me"
"When The Roll Is Called Up Yonder"
Congregational Singing
Processional ~ "How Great Thou Art" #483
"Ancient Words" Insert
"In Christ Alone" Insert
Recessional ~ "By The Sea Of Crystal" #620

Pallbearers
Joshua Prins Carl Prins Dalton Brady Zakiah Van Der Zwaag
Derek Prins Ryan Prins Nick Prins

Ushers
Lee Van Tol ~ Jerry Buteyn ~ Bruce Van Engen ~ Kevin Wiekamp

Interment
Roseland Cemetery
Sanborn, Iowa