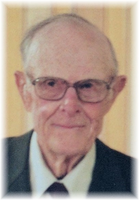 Orion Richard Thomas
Orion Richard Thomas, son of Arthur and Pearl (Longbottom) Thomas, was born at Sanborn, Iowa on May 22, 1918. He received his education at Sanborn, graduating with the class of 1936.
Following high school, Orion worked on the family farm, and attended Iowa State College for a time. On June 15, 1942, he enlisted in the United States Marine Corps, serving until December 15, 1945. Twenty-six months of his military career was spent in the Pacific Islands.
After his honorable discharge, Orion returned to the family farm operation. On March 17, 1954, he was united in marriage to Dorothy Jean Byers. They were parents of three children: Martha, Mary, and James.
Orion was a member of the First Presbyterian Church in Sanborn where he served in various capacities. He was also a member of the local school board, the Sanborn Funeral Home board, and the American Legion. He received a 50-Year Membership Award from the Masonic Lodge in June of 1990.
Orion passed from this life on Monday, August 7, 2017 at the age of 99 years. With his passing, Orion once again joins his parents, Arthur and Sylvia Thomas; his wife, Dorothy (September of 1982); his siblings: Violet Brandt and Levoy Thomas, and their spouses.
Left to cherish his memory are his children: Martha Thomas of Sanborn, Iowa, Mary and her husband, Steve Agar of Sibley, Iowa, and James and his wife, Lori Thomas of Hartley, Iowa; one grandson, Brenton Thomas also of Hartley; other relatives and friends.
Celebration of Life
Orion R. Thomas
Born ~ May 22, 1918
Died ~ August 7, 2017
Age ~ 99 years 2 months 16 days

MEMORIAL SERVICE
Thursday, August 10, 2017 ~ 10:30 a.m.
First Presbyterian Church
Sanborn, Iowa
Clergy ~ Rev. Gary Hegsted
Pianist ~ Cloe Starkenburg
Musical Tribute
Eric Rozeboom
"Amazing Grace, My Chains Are Gone"
"Hymn Of Promise"
Congregational Singing
Processional ~ "Rock Of Ages #204"
"The Old Rugged Cross" #186
Recessional ~ "Marine Corp Hymn"
Instrumental - Performed by Brenton Thomas
Pallbearers
Steve Taylor Keith Jacobs Joel Wright
Kenny Kern Vern Spykerman John Haack
Ushers
Lowell Appleton ~ Marlin Vander Velde
Military Graveside Rites
Primghar American Legion
Chatteau Thierry Post #36
Interment
Pleasant Hill Cemetery
Primghar, Iowa