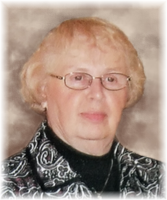 Jermaine Joy Welch
Jermaine Joy Welch, the daughter of Harold and Violet (Thortsen) Bryant, was born April 5, 1934 at Hartley, IA. She received her education at Hartley, graduating with the class of 1952. It was during these years at Hartley High that Jermaine was known for her stellar talents in basketball. She was also crowned Homecoming Queen during her senior year.

Jermaine was united in marriage to Merlyn Welch on February 22, 1953 at Trinity United Church of Christ in Hartley. To this union, three children were born: Jonelle, Kelly and Kerry. Jermaine was a stay-at-home-mom while raising her family, but later, went to work outside the home at Hartley Foods, where she was a checker/cashier and a stocker. She also worked at Hartley Drug as a clerk. One of the great joys of her life was becoming a foster grandparent. Jermaine was a member of Trinity United Church of Christ in Hartley, and had served on the Consistory. She was a member of the Yadnom Club, and enjoyed donating her time as a summer volunteer at the Hartley Library. Jermaine will be remembered as an avid Iowa Hawkeye fan, a lover of televised sporting events, and a dedicated reader.
She passed from this life on Saturday, August 5, 2017 at the Spencer Municipal Hospital, having reached the age of 83 years and 4 months. She was preceded in death by her parents; her husband, Merlyn; and one sister, Janaan.
Left to cherish her memory are her daughter, Jonelle and her husband, Charles Conrad, her sons, Kelly and his wife, Deidre Welch, and Kerry Welch; five grandchildren: Tanya, Toby, Bailey, Brett, and Shane; two great-grandchildren: Grace and Asher; one brother, Jim Bryant; one sister-in-law, Ardine (Lanny) Dillingham; and one brother-in-law, Bill (Colleen) Barker; other relatives and friends.
Celebration of Life
Jermaine Joy Welch
Born ~ April 5, 1934
Died ~ August 5, 2017
Age ~ 83 years 4 months

FUNERAL SERVICE
Wednesday, August 9, 2017 ~ 10:00 a.m.
Trinity United Church of Christ
Hartley, Iowa
Officiating ~ Rev. Jeff Filkins
Organist ~ Julie Back
Special Music
Rev. Jeff Filkins
"On Eagle's Wings"
Songs of Praise
Processional ~ "Here I Am, Lord"
"Borning Cry"
"In The Bulb, There Is A Flower"
Recessional ~ "For All The Saints"
Pallbearers
Mark Dillingham Mark Fredericks Brett Conrad
Shane Conrad Mike Salonen Scott Kolbeck
Ushers
Hugh Johnson ~ Greg Mills
Burial
Pleasant View Cemetery
Hartley, Iowa