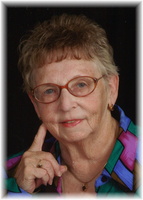 Marian Ethel Crawford
Marian Ethel Crawford, daughter of Glenn B. and Dorthea Irene (Heske) Shannon, was born at Storm Lake, IA on February 21, 1934. She spent her youth at Storm Lake and attended school there, graduating from Storm Lake High School in 1953. In the years that followed, Marian furthered her education at Northwestern College in Orange City, IA, completing her B.A. in 1969. She later earned her Master's of Education Degree in 1984 from the University of Arkansas at Jonesboro.
Marian was united in marriage to Justin Eugene Morrison at Storm Lake. The couple made their home there until moving to Killeen, TX where their daughter, Terri Lee and son, Justin Earl were born. With her husband in the U.S. Army, Marian and her family were relocated to Germany. While there, their third child, Michelle Dee was born. Moving back to the states, they settled in New York. Eventually, Marion and the children moved to Council Bluffs, IA where she met and married Duane E. Dalton. Together, they moved to Paullina, IA and lived there until finding a new home in Evening Shade, AR. Following Duane's death, Marian met Vernon Crawford. They were married and lived in Williford, AR until Vernon passed away. Marian decided to move back to Iowa and made her home in Sanborn. She then became a resident at Fieldcrest Assisted Living at Sheldon, IA where she lived until she passed away on Monday, July 17, 2017 at Prairie View Nursing Home in Sanborn, IA; she was 83 years old.
Marian was a member of Our Savior's Lutheran Church in Sheldon, and the VFW Ladies' Auxiliary of Evening Shade, AR. Being a "people-person", she loved to play dominoes and call out Bingo. Fun times were spent at the casino, or watching NASCAR and tennis matches on TV. The most precious, however, were the occasions that included family.
Preceding her in death were her grandparents; her parents, Glenn and Dorthea Shannon; husbands: Duane E. Dalton, and Vernon Crawford.
Left to cherish her memory are her children: Terri L. Morrison of Sanborn, IA, Justin E. (Debra) Morrison of Elizabeth City, NC, and Michelle D. (Michael) Hohbach of Paullina, IA; 10 grandchildren; 35 great-grandchildren; 6 great-great-grandchildren; brothers: Lloyd Shannon and DeWayne Shannon; sisters: Betty Holm, Carolyn Stull, and Shirley Severson; other relatives and friends.

Celebration of Life
Marian E. Crawford
Born ~ February 21, 1934
Died ~ July 17, 2017
Age ~ 83 years 4 months 26 days

FUNERAL SERVICE
Saturday, July 29, 2017
2:00 p.m.
St. John's Lutheran Church
Sanborn, Iowa

Clergy ~ Pastor George Clausen
Organist ~ Gayle Ten Haken
Pianist ~ Anna Van Riesen

Musical Tribute
Great-grandchildren
"Jesus Loves Me"
"Jesus Loves The Little Children"

Congregational Singing
Processional ~ "Amazing Grace"
Recessional ~ "In The Garden"

Honorary Pallbearers
Grandchildren
Great-grandchildren
Great-great-grandchildren

Ushers
Chad Lyman ~ Tom Geiser

Interment
Burial will take place at a later date.