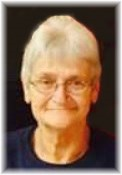 Linda Diane Hill
Linda Diane Hill, daughter of Charles and Bonnie Lorraine (White) Witter, was born at Storm Lake, IA on September 27, 1950. She spent her youth at Newell, IA and attended Newell Providence, graduating with the class of 1969.
On February 6, 1970, Linda was united in marriage to Garry Lee Hill at Newell. The couple was blessed with three children: Michael, Cheryl, and William. Linda enjoyed being home to care for her growing family and take part in all their activities throughout their school years. She especially liked playing Bingo and attending Liza's dance recitals and cheerleading events. Baking was one of Linda's pleasures, and she was very good at it! Christmas goodies were one of her specialties; many sweet treats were shared from her kitchen benefiting family and friends alike.
Linda passed from this life on Sunday, July 16, 2017 at her home in Spencer, IA. She was 66 years old.
Preceding her in death were her father, Charles Witter; her paternal grandparents, Edward and Charlotte Witter; and her maternal grandparents, Elmer and Stacy White.
Left to cherish her memory are her husband, Garry of Spencer, IA; her children: Michael and his wife, Tracy of Albert City, IA, Cheryl Hill of Spencer, IA, and William Hill of Laurens, IA; also a very special "adopted" family member, Liza LoVan of Ames, IA; five grandchildren; her mother, Bonnie Witter; a brother, Roger and his wife, Lynn Witter of Davenport, IA; a sister, Laurie and her husband, Allen Bland of Newell, IA; other relatives and friends.
Celebration of Life
Linda D. Hill
Born ~ September 27, 1950
Died ~ July 16, 2017
Age ~ 66 years 9 months 19 days

MEMORIAL SERVICE
Saturday, August 5, 2017
3:00 p.m. ~ 7:00 p.m.
The Spencer Room - Spencer Municipal Utilities
520 2nd Avenue East, Spencer, Iowa

Honorary Pallbearers
Brett Sargent Brooklyn Taylor Breeana Witter
Jaida Essick Kinley Hill
(Burial to be held at a later date)