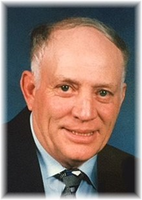 Eldon Raymond "Sonny" Tewes
Eldon "Sonny" Tewes, the son of Ernest and Nellie (Baumeister) Tewes, was born September 10, 1942 in rural Hartley, IA. Sonny was the youngest of 15 kids, according to his siblings he truly was the baby of the family. He attended Hartley schools and graduated from Hartley High School in 1960. He grew up on a farm east of Hartley and moved one-half mile from his childhood home to his permanent home where he raised his family.
On June 26, 1965 he was united in marriage to Linda Jean Haht at the Catholic Church in Sanborn. For 52 years Sonny and Linda resided on a farm east of Hartley where they raised their family of five children, many crops and lots of livestock.
Sonny loved restoring 'red' tractors with his son and brothers. He spent many winter hours in Brent's shop fixing, painting and polishing tractors until they looked almost brand new. He was very proud of them and showed them to any and all that visited the farm. You couldn't come to the farm and not go to all the buildings and the restored Barn to see all the tractors and cars, including the first new car he bought which was a red 1964 Ford Galaxy!
Sonny loved to travel; his favorite destination was Las Vegas. He shared many stories about his travels there. He was able to make one last trip in March with his family which was a fantastic experience for all. Sonny also loved hunting, ice fishing and spending time with family and friends. He enjoyed bowling and playing cards, especially 500 which he taught all his kids to play.
On Sunday July 16, 2017, Sonny passed from this life at the age of 74. Preceding him in death were his parents, Ernest and Nellie Tewes; six brothers: Harlan, Marvin, Delmar, Lawrence, Arlo and Lester; four sisters: Mildred, Arlene, Marilyn, and Norma Jean.
Left to cherish his memory are his loving wife, Linda; five children: Brent (Brenda) Tewes of Spirit Lake, IA, Carla (Jim) Duggan of North Liberty, IA, Lori (Roger) Griswold of Fort Madison, IA, Jo (Grant) Wetherill of Peoria, Il and Sheryl Tewes of Terril, IA; his six grandchildren: Mick and Brittany Duggan, Brooke and Mitchell Wetherill, and Austin and Kenny Ness; two brothers: Orville Tewes of Paullina, IA, and Roger Tewes of Larrabee, IA; two sisters: Marjorie Petersen and Marlene Wills both of Hartley IA; and several nieces, nephews and friends. He was loved by many and will be missed by all that knew him, especially his wife and children.
In lieu of flowers, please contribute to the Michael J. Fox Foundation for Parkinson Research:
Donation Processing
The Michael J. Fox Foundation
P.O. Box 5014, Hagerstown, MD 21741-5014
www.michaeljfox.org
Celebration of Life
Eldon "Sonny" Tewes
Born ~ September 10, 1942
Died ~ July 16, 2017
Age ~ 74 years 9 months 24 days
Memorial Service
Wednesday, July 19, 2017
10:30 a.m.
Trinity United Church of Christ
Officiating ~ Rev. Jeff Filkins
Organist ~ Julie Back
Congregational Singing
Processional ~ "In The Garden"
"Amazing Grace"
"Daddy's Hands"
"Crying For Me"
Recessional ~ "God's Eye Is On The Sparrow"
Honorary Pallbearers
Mick Duggan Brittany Duggan Brooke Wetherill
Mitchell Wetherill Austin Ness Kenny Ness
Ushers
Greg Mills ~ David Rossman
Inurnment
Pleasant View Cemetery
Hartley, Iowa
(at a later date)