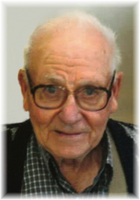 James Alfred Hollowell
James Alfred Hollowell, son of Alfred and Birdie (Schlarbaum) Hollowell, was born on November 23, 1928 at Hartley, IA. He spent his youth in the Hartley area, attending the local country school.
On September 18, 1949, James was united in marriage to Geraldine LaVonne Hagedorn at Hartley. They began their married life together on a farm south of Hartley where they were involved with row crops and raising cattle. Three children were born to this union: Lisa, Kelly and Kirby. In 1979, James and Geraldine relocated to the Lake Okoboji area, but continued with their farming operation at Hartley until 2012, when they moved to an assisted living facility.
While agriculture remained his first interest, James enjoyed traveling, flying and woodworking. In the summer and fall months, after the crops were taken care of, he would manage to find time for some hunting and fishing. He was a member of the Shriners and the Methodist Church. On Saturday, July 15, 2017, James passed from this life at the age of 88.
Preceding him in death were his parents, Alfred and Birdie Hollowell; his sister, Lois; mother and father-in-law; brothers-in-law: Gaylord Taylor and John Madden; one sister-in-law, Verdeen Hagedorn.
Left to cherish his memory are his wife, Geraldine Hollowell; children: Lisa Clipperton of San Antonio, TX, Kelly Hollowell of Hartley, IA, and Kirby (Marcy) Hollowell also of Hartley, IA; eight grandchildren; seven great-grandchildren; one brother-in-law, Robert (Dell) Hagedorn; sisters-in-law: Joan Taylor and Shirley (Fred) Sorenson; other relatives and friends.
Celebration of Life
James Alfred Hollowell
Born ~ November 23, 1928
Died ~ July 15, 2017
Age ~ 88 years 7 months 22 days
Funeral Service
Saturday, July 22, 2017 ~ 2:00 p.m.
Trinity United Church of Christ
Hartley, Iowa
Officiating ~ Rev. Jeff Filkins
Organist ~ Julie Back
Musical Tribute
Rev. Jeff Filkins
"On Eagle's Wings"
Congregational Singing
Processional ~ "The Old Rugged Cross"
"On The Outskirts Of Heaven" - Video
Recessional ~ "Amazing Grace"
Pallbearers
Joshua Hollowell Jeremy Hollowell Jacob Kingery
Zachary Hollowell Colby Hollowell Derek Rice
Honorary Pallbearers
Jessica Hixon Jamie Clipperton Cassandra Rice
Ushers
Hugh Johnson ~ Mert Feddersen
Burial
Pleasant View Cemetery
Hartley, Iowa